Explore the Magical Philippines
The Philippine Islands are one of the largest archipelagos in the world, comprising of some 7,107 islands spanning the South China Sea and the Pacific Ocean.  Since the only way to visit a good majority of its islands is by sea, the nation has become an idyllic cruising ground and island hopping spot in SE Asia.
Some of the best places for cruising are Baler, Batanes, Bohol, Busuanga, Cebu, Davao, Hundred Islands, Malapascua, Pagupod, Palawan, Panglao Island, Puerto Galera, Tagaytay and Zamobanga.
Generally the Philippines is a safe destination and cruising area.  Seal Superyachts Philippines can arrange your inbound and outbound clearances through Subic Bay, Manila, Puerto Princessa (Palawan) and Cebu – covering the best destinations in the country for your Superyacht visit.
Crew Entry Requirements:
Yacht crews from more than 120 different countries are eligible for a 30 day visa-free entry into the Philippines.  Please contact us to enquire about eligibility and requirements for your crews' nationality.
Subic Bay Freeport Zone
Subic Bay Freeport Zone (SBFZ), commonly referred to as Subic Bay, was a military base that was successfully converted into a tax and duty free zone managed by Subic Bay Metropolitan Authority or SBMA. Subic Bay is 110km north of Manila and can be reached via expressways with approximate travel time of 3 hours depending on traffic.
With a strategic location in the South China Sea, Subic Bay offers a convenient entry location into the Philippines for any Superyachts in SE Asia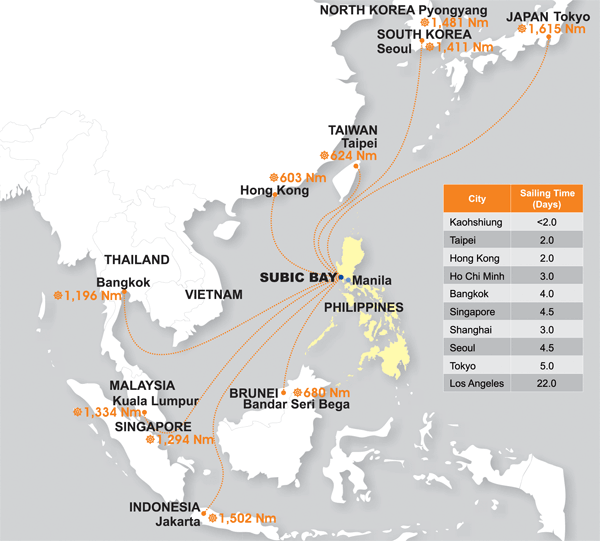 The mountain ranges around the Subic Bay area and the deep natural harbor provide excellent and protected anchorage. In addition, these features make SBFZ naturally sheltered from typhoons. Subic Bay Freeport Zone is in Region III (or Central Luzon Region) of the Philippines. It is one of the points in the growth triangle (and an engine for economic development) in the region. SBFZ is a supplier of services and products for the Central Luzon Development Program, a regional growth area composed of the provinces of Bulacan, Nueva Ecija, Tarlac, Pampanga, Bataan, and Zambales
Additional Resources:

   Palawan – Number One Island in the World – 2014 Conde Nast Traveller Gallery

Philippines – Destination Video