A wildlife survey of the Ayeyarwady River has found 68 dolphins – 18 more than researchers found in the same location last year. The Department of Fisheries and a team from the Wildlife Conservation Society conducted the survey of the population of the critically endangered Irrawaddy dolphin from Mandalay to Bhamo in southern Kachin State.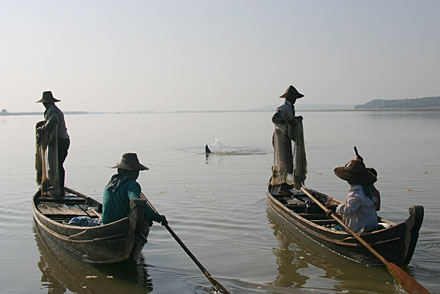 "This doesn't mean that more dolphins were born. We spent more time on the survey this year. We found 14 dolphins at Bhamo and Sinkan Bridge compared to five last year," WCS deputy project manager U Kyaw Hla Thein said last week.
They divided their time on the six-day survey between three zones: Mandalay to Kyaukmyaung; the third defile of the river to Shwegu; and the area around Bhamo and Sinkan Bridge.
"We found 28 dolphins at the third defile and Shwegu this year, but there were 38 dolphins in 2010 and 2011. And we found 22 dolphins at Mandalay-Kyaukmyaung, a protected area. The number of dolphins in the protected area is stable," he said.
Read the full article in The Myanmar Times here:  http://www.mmtimes.com/index.php/national-news/9670-survey-finds-more-dolphins.html
For further background on the Wildlife Conservation Society's Irrawaddy Dolphin Program, click here:  http://www.wcs.org/news-and-features-main/looking-for-a-good-catch-ask-the-irrawaddy-olphin.aspx