Palma, Mallorca, SPAIN:  The Bay of Palma set a typical challenge for the Superyacht fleet making their first coastal course of the Superyacht Cup. With progressive changes in pressure and wind direction as the 21 boat fleet crossed the bay and passed upwind and downwind, it was the teams which had the best handle on the big picture and could second guess the changes which rose to the top of the three classes.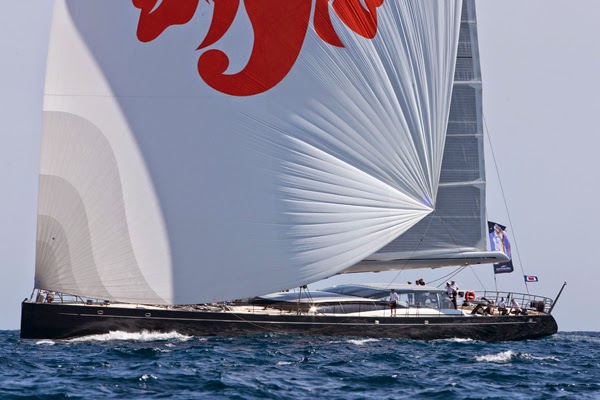 While the five strong J Class did their second windward-leeward of the week, a coastal course of 28.6Nms was set in the SSWly sea breeze. Crucial choices were to take the left of the first beat where there was more wind pressure and a beneficial left shift, and, correspondingly to recognise the breeze becoming lighter and shifting back as the fleet raced downwind towards the shore.
The sea breeze built from a gentle 8 to 9kts for the first starters of the fleet which is set of at two minutes staggered intervals. By mid race there were 13-16kts at times which placed a premium on good boat handling and excellent communication.  Those teams which had not sailed together before or had changes in line up found they suffered against the crisper crew work around the intense course.
Photos by Claire Matches (www.clairematches.com) via The Superyacht Cup site.  Read more here: A Typical Palma Puzzle