Thailand's Central Government is eager to quickly press ahead in firmly establishing the country as the 'Superyacht Hub of ASEAN'.
By Adam Frost, Phuket.
Thailand's Government looks set on pushing ahead with new legislation to firmly establish the country as the leading Superyacht Hub of ASEAN', during a gathering of government and industry stakeholders held in Phuket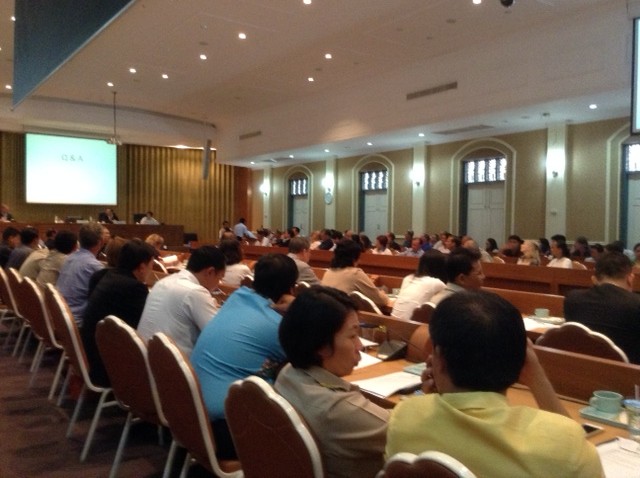 During the open meeting at Phuket Provincial Hall today, the island's Governor and other top-ranking officials outlined the central Government's plan of how they intend to further develop Thailand's growing Superyacht and Marina Industries.
Three main areas of improvement have been identified as to how they intend to help the countries Superyacht Industry grow to its full potential.
These new plans include:
– the building of more first-class marinas throughout the country,
– a proposal to develop and issue Charter License's for foreign flagged yachts, and,
– the creation and support of new international standard yacht shows.
Thai Immigration laws will also be changed in order to allow longer periods of stay for visiting yacht crews. This particular issue has been a grey area in the past, as under Thailand's existing immigration regulations there have been numerous difficulties & hurdles for yacht crews entering the country by air to join a foreign-flagged vessel.
A new Superyacht Charter license is expected to be introduced within the next six months. This will allow foreign-flagged Superyachts to legally charter within Thai waters. Formerly these charters had been required to either commence or finish in a different country, posing challenges to both the yachts and their Thailand support agents.
This has in the past restricted superyacht charter companies from properly promoting Thailand as a destination. With a legal charter license being available soon, it should greatly increase the amount of Superyachts coming to visit Thailand for commercial charters.
This ground breaking new license will be introduced in time for the start of the next high season in November this year. The fees and criteria of such a charter license are at this point still to be defined.
The Thai government recognizes the benefit of visiting Superyachts, and thus these newly proposed changes to the legal framework will be welcomed in order to bring growth to the industry.
For further details, or to discuss your visit to Thailand – please contact Adam Frost at Seal Superyachts Thailand.