Thailand Destination Information
Phuket, lying eight hundred and seventy kilometres south from Bangkok, is Thailand's largest island, as well as being the country's smallest province.
Today, Phuket is a vibrant, intrinsic and multi-cultural tourist destination. Being approximately twenty-one kilometres in width by forty-eight kilometres in length, the typical landscape of Phuket is one of forested hills, coconut groves and rubber tree plantations.  The island's coastline is dotted with numerous spectacular beaches.  The surrounding waters of the Andaman Sea contain an incredible variety of marine life, which have become renowned for offering world-class scuba diving.  Phuket Island and its thirty-two smaller islands form Phuket Province, giving a total area of five hundred and seventy square kilometres.  With its numerous beaches, bays and safe anchorages Phuket has become world renowned as the premier Superyacht destination in Asia.
For Yacht berthing in Phuket, we recommend the Yacht Haven Marina, situated on the North East coast of Phuket.  The marina is within close proximity to the majestic limestone islands of Phang Nga Bay.  The Yacht Haven is Phuket's best deep water access marina.  The marina is currently capable of receiving yachts of up to 80 metres in length, and 5 metres in draft.  There are plans to greatly expand the Superyacht dock space and marina facilities over the coming year or two.
Phang Nga and Krabi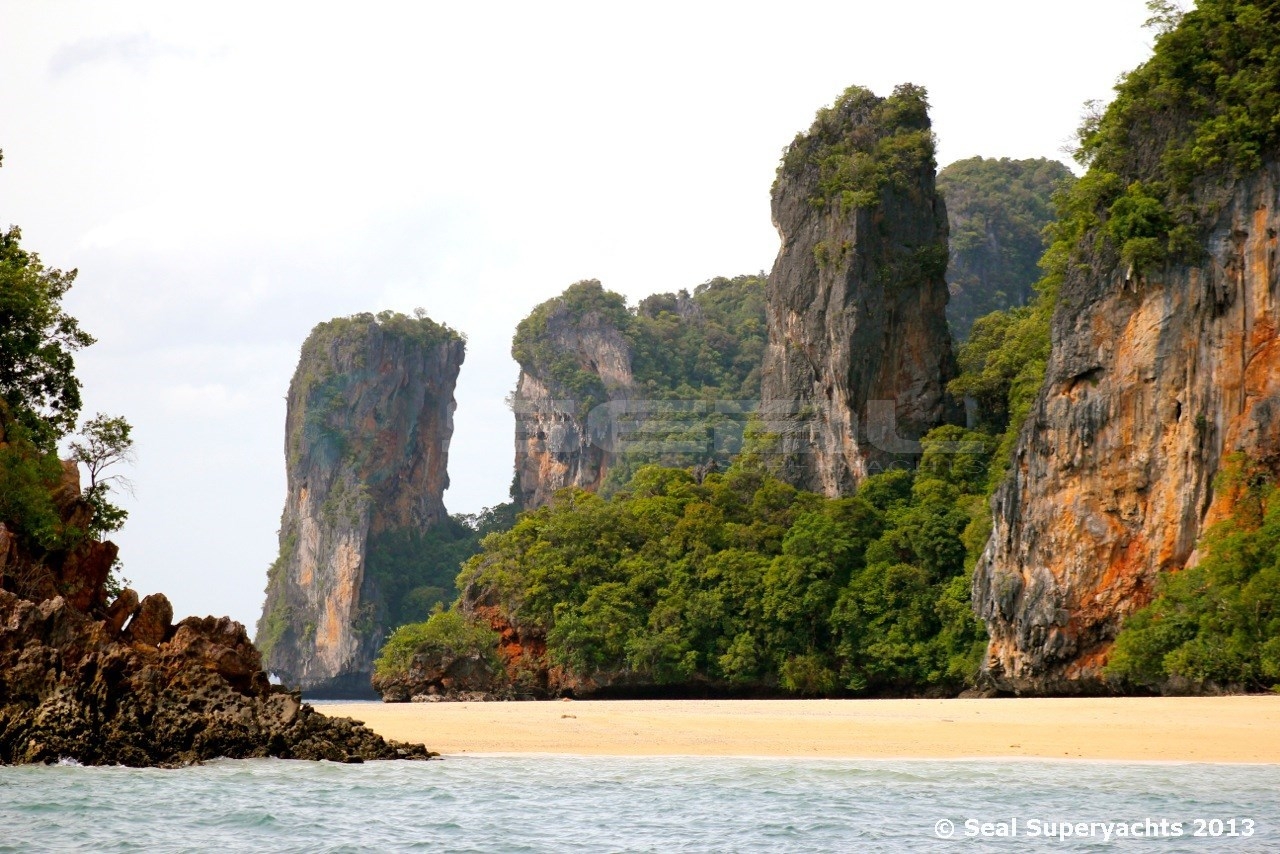 Phang Nga Bay is renowned for its one hundred or so monolithic limestone karst islets.  The area offers breath-taking scenery and is classed as a UNESCO World Heritage Site.   One of the many attractions in the itinerary of Phang Nga Bay would be sea-kayaking amongst the many islands and caves, which open out to reveal hidden 'Hongs' – open air lagoons with sheer limestone walls.  Visiting the traditional stilted Muslim fishing village of 'Koh Panyi' for a fresh seafood lunch is also well worthwhile.  Most famous of all the highlights is James Bond Island, featured in the famous 1974 film 'The Man with the Golden Gun'.  Six Senses Resort offers a wellness Spa treatment at their exclusive five-star Island resort on Koh Yao Noi Island.
Krabi Province. Sailing just an hour or so southeast from Phang Nga is the Province of Krabi.  Similar in many respects to Phang Nga bay, Krabi also offers limestone islands of stunning degree, but added to this are some beautiful powder white beaches, with crystal clear water for snorkelling and scuba diving.  Krabi province also offers good land excursions for guest wanting to explore.  Tiger Cave Temple, Hot Spring waterfall and the Emerald Pool are just some of the natural attractions awaiting those with an adventurous spirit.  Within the coastal boundaries of Krabi province lie some dream islands.  Phi Phi Island is probably the most recognisable and beautiful of all, but further to the south are Lanta Yai and Lanta Noi islands.  Koh Lanta offers a couple of great dive sites known as 'Hin Daeng' (Red Rock), due to the profuseness of the abundant soft red corals growing there. Whale Sharks are often spotted by divers near Hin Daeng.
Similan and Surin Islands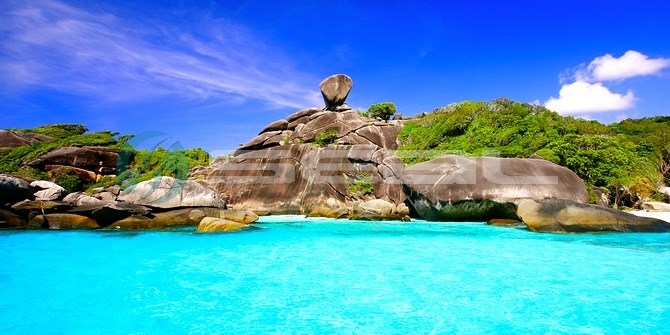 The Similan Islands lie approximately 55Nm northwest of Phuket in the Andaman Sea.  In 1982, the 90 Sq.Nm reserve comprising the Similans was declared a Marine National Park.  In recent years this group of nine small islands has become one of the leading attractions for divers to Thailand. It is rated as one of the top 10 dive sites in the world. During the high season months, water clarity for divers can be between 30-50 meters. Manta Rays, Whale sharks and other large pelagic fish can all be found around the islands.  Other attractions include pristine coral reefs, powder white beaches, small trekking excursions and snorkelling.
The Surin Islands archipelago is a 95Sq.Nm Marine National Park, located in the Andaman Sea, some 35Nm off of the Thai coast. Belonging to Ranong Province, the park's five islands lie just a few miles south of the Thai / Burma border.  The two main islands, Koh Surin Nua and Koh Surin Tai, are separated by a narrow strait of water just one hundred meters across.  The islands have almost no flat ground beyond small pockets of mangrove and stunning little beaches, nestled in hidden coves.  These two islands cover a land mass of 9sq.m. and 8sq.m. respectively.  Again world-class diving is within easy reach around the islands fringing reefs.  Guests can go to the beach, swim, snorkel, or look for monkeys and other local wildlife.  A traditionally nomadic Seafaring race of people called the 'Moken', or Sea Gypsies, make seasonal stilted thatch homes on a couple of the beaches.  They can be visited to buy sea shells or to just witness their very traditional and rare way of life.
Gulf Of Thailand
The Gulf Of Thailand offers some lovely cruising opportunities, having many unspoiled and beautiful tropical islands scattered around the southern coast.  Small winding roadways through old Coconut Tree Plantations, leading to golden beaches are typical of the type of scene one would encounter whilst exploring Koh Samui, Koh Pangan and Koh Tao Islands.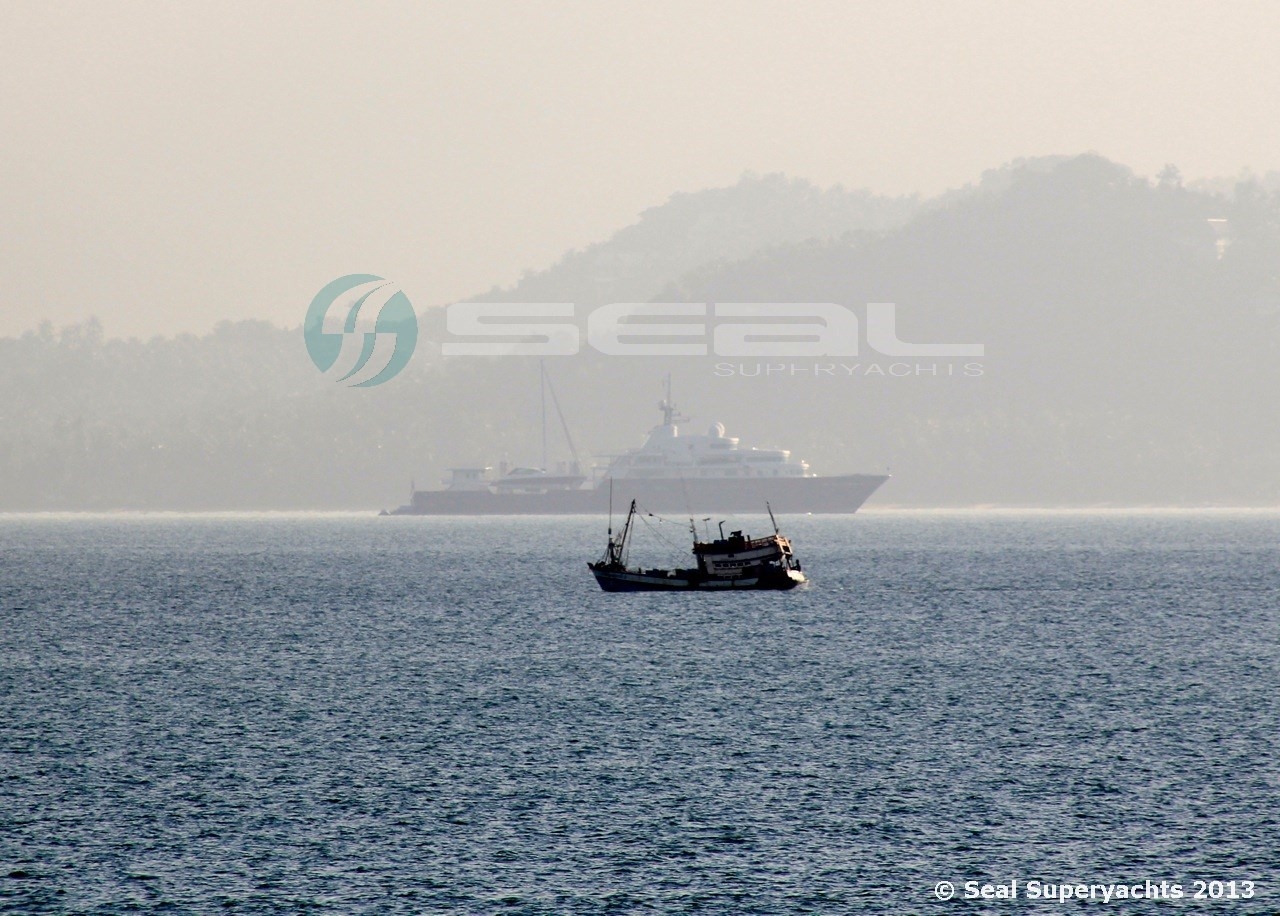 Koh Samui is the best known of the islands in the Gulf.  It is now well established as the main tourist island on the western side of the gulf coast.  Good anchorages can be found on the eastern and northern side of the Island.  Many local jetties make coming ashore easy by tender.  Samui is home to some prestigious hotel chains, amongst these are the Six Senses, Four Seasons, and Banyan Tree Resorts.
Koh Pha Ngan, located a few miles north of Koh Samui, is slightly smaller in size but less developed and more relaxed.  There are beautiful beaches all the way around the islands, but the best bays can be found on the eastern coast.
Koh Tao (Turtle Island)  Ten or so miles north from Koh Pha Ngan is the small island of Koh Tao.  Due to its remoteness, it is hardly developed and very natural.  Clear waters offer good scuba diving and snorkelling amongst its rocky bays and inlets.  The island is an important breeding ground for Hawksbill and Green Turtles.
Mu Ko Ang Thong National Park is an archipelago in the Gulf of Thailand.  It comprises of 42 Islands. Most of the islands consist of limestone mountains 10 – 100 meters above sea level.  The park covers a total area of 102 sq.km, of which about 18 sq.km is land mass.