Villagers Flee As Mount Sinabung Eruptions Continue in Indonesia
Indonesia's Mount Sinabung volcano spewed hot ash down its slopes this weekend, releasing columns of ash that reached as high as 1.2 miles into the air.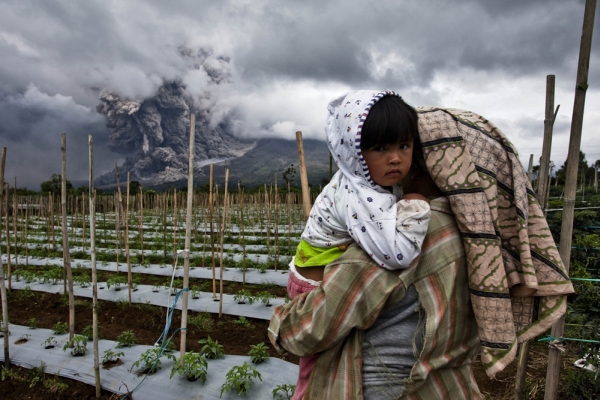 Located on the island of Sumatra, the 8,070 foot-high Mount Sinabung has been periodically erupting since 2010.  Authorities raised the alert level earlier this month, warning they had recorded a "sharp rise" in volcanic activity.
More than 2,700 residents have sought refuge in temporary shelters in recent weeks.
On Monday, there were at least 28 pyroclastic flows – surges of hot ash and gas that rush down the side of the mountain at high speed. Gede Suantika, an Indonesian government volcanologist, said there were signs a lava dome was growing on Mount Sinabung. Lava domes are pile-ups of magma near the vent at the top of a volcano, that have been known to collapse and flow down mountain sides at high speed.
The danger alert for Mount Sinabung was raised to its highest level on 2 June. Thousands more people are likely to have to evacuate the area in the coming days, a military commander in Sumatra told AFP.
From BBC News and Huffington Post
Photo by Ulet Ifansasti/Getty Images