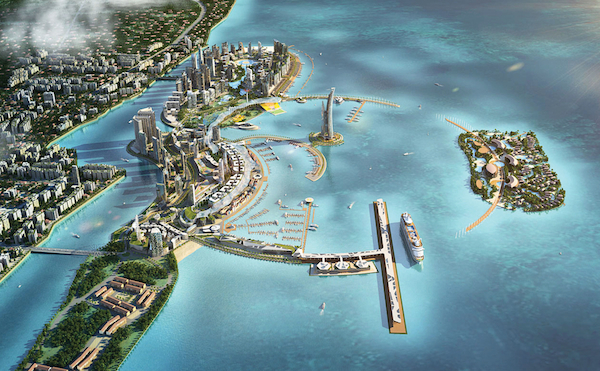 Melaka Gateway is the latest of Malaysia's ambitious economic development projects—such as Iskandar Malaysia and the regeneration of Penang— aimed at furthering the country's ambitions to attract global companies, property investors and well-heeled tourists.
Launched in February by Prime Minister Najib Razak, the 609-acre Melaka Gateway project will add three manmade isles alongside the existing, artificial Malacca Island. Upon completion, it will be the largest manmade island cluster in the region.
"Melaka Gateway is a groundbreaking and innovative tourism product that complements the government's tourism ambitions," Razak said at the launch. "This development is projected to attract an additional 2.5 million tourists over the next 12 years with high-yield consumers expected to contribute substantially to the tourism earnings of Malaysia."
The USD 12.2 billion mixed-use project, which Malacca's chief minister recently claimed "will be on par with Manhattan in New York," will feature 12 zones comprising luxury hotels and resorts, a high-end retail district and Asia's largest marina terminal, in addition to residential and commercial spaces.
– See more at:   Melaka – An Open Gateway