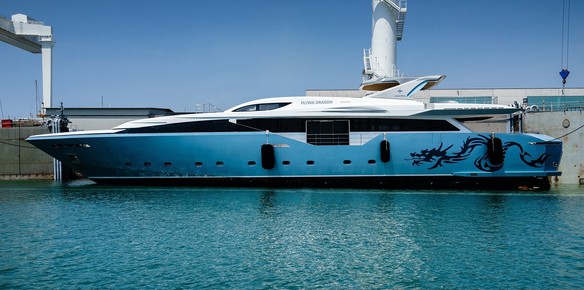 The Italian Sea Group has reported the launch of yet another yacht in Marina di Carrara, last Saturday; the fourth of seven launches planned for 2014.
A giant floating barge was used in order to launch yachts up to 90m long, and in this case the motor yacht "Foam" was the third passenger. Foam is a 35m Full Custom yacht by Admiral, as well as Low Profile, a 40m motor yacht from the Tecnomar Nadara series, which were both launched in the past few weeks.
Now, christened under the name Flying Dragon, the Admiral Regale 45 metre motor yacht has been launched; the fourth in a legacy of seven for The Italian Sea Group Shipyard. The motor yacht Admiral Regale 45 features a fast planing hull entirely built in aluminum and able to reach a top speed of about 27 knots, and not to mention a very distinctive design.
Read more here:  Admiral Yachts Media page