Tahiti is the picture postcard of a South Seas paradise – lush tropical foliage, fragrant flowers, powder white beaches, sparkling blue seas, friendly smiling people, beautiful women, delicious fresh fruits and fine foods.
To a diver, Tahiti spells sharks – tons of sharks that can be observed and enjoyed by both scuba divers and snorkelers alike. With an estimated population of 240,000 residents, Tahiti (more correctly known as French Polynesia) is literally outnumbered by the sharks that inhabit the outer reefs and open seas. While no one knows the exact number, the shark population is estimated in the millions. And because of the extraordinary underwater visibility (often 200 feet), it is not uncommon for a diver to view more than one hundred sharks on a single dive.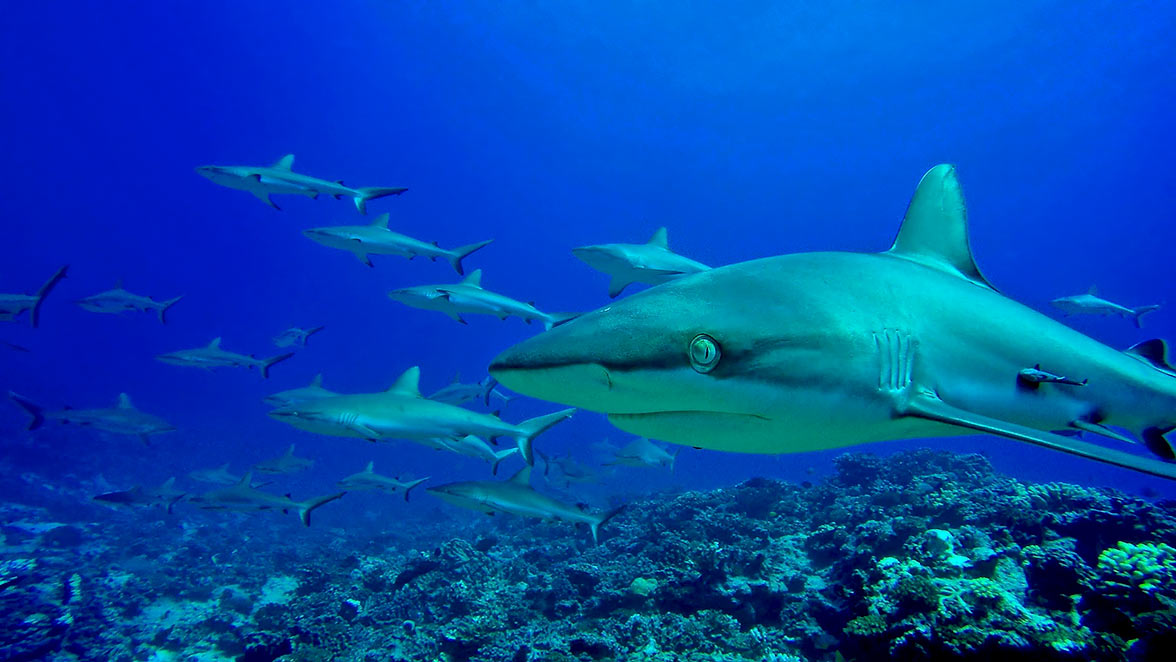 According to shark expert Dick Johnson, in his book Sharks of Polynesia, at least 16 shark species have been recorded in French Polynesian waters. It is definitely a sharky place, as I have observed five species in a single day of diving: Gray Reef sharks, Silvertips, Great Hammerheads, Whitetip Reef sharks and small Blacktips. Few places on earth offer this kind of variety and abundance for shark dives.
We arrived early morning at Rangiroa Atoll, 217 miles (350 km) northeast of Papeete. Sparsely populated and seldom visited by most tourists, this region is made up of 78 islands & atolls, part of a chain known as the Tuamotu Archipelago.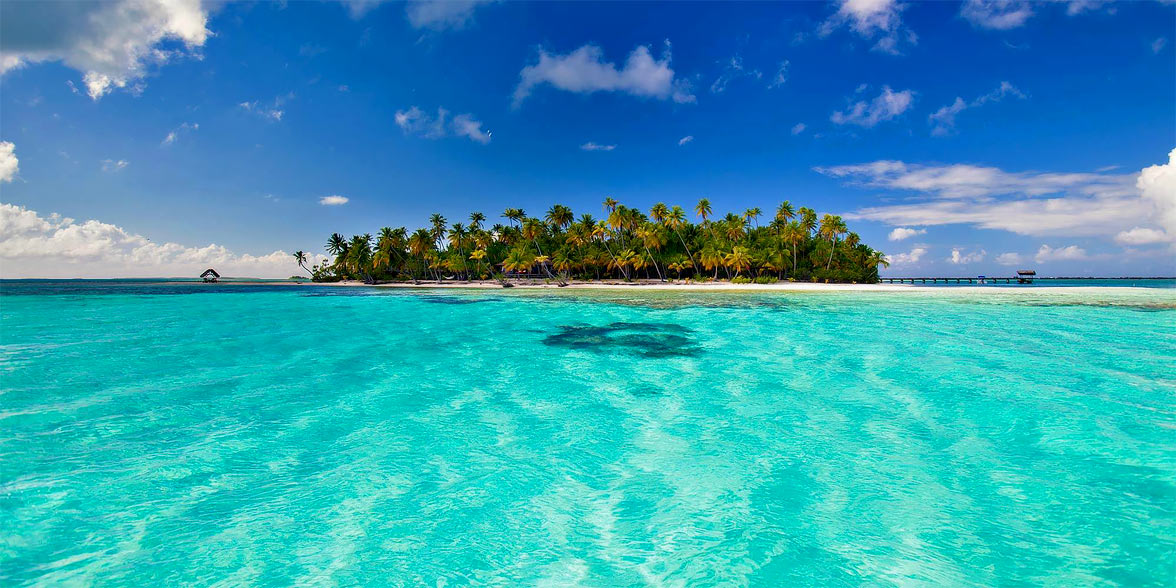 Rangiroa sort of an elliptical-shaped atoll encircled by a coral barrier reef, dotted with small islets. It is the largest Polynesian atoll, with a lagoon measuring 42 miles (67 km) long by 16 miles (26 km) wide. You can dive on the inside of the atoll (the lagoon), the outside of the atoll (the drop-off) or in one of the many passes (channels) that allow the sea to flow in and out of the lagoon during tidal changes. Because of the enormous amount of seawater contained in the lagoon, currents in the passes can sometimes reach seven knots – quite a ride for a drift diver.
On the first day of diving, our French dive guide Ives Lefevre chose Tiputa Pass, a deep water channel just a few minutes boat ride from the hotel dock. Some call it the Pacific's undersea capital of shark diving.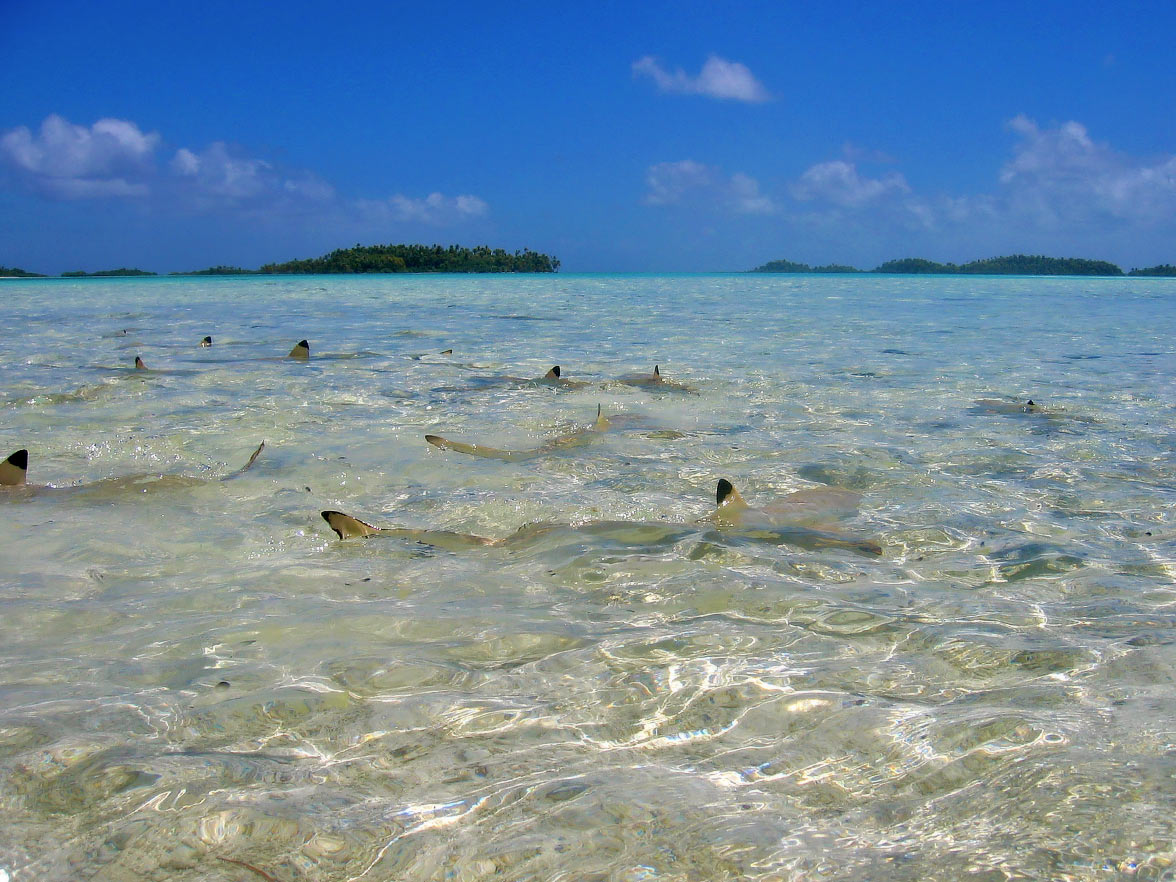 We rolled off the boat and descended into a blue void of incredibly clear water. Visibility must have been 90 meters or better. It was an absolutely stunning panoramic view. I could see a number sharks below me. But wait a minute; I could also see sharks to the left, to the right, in front of me and behind me. Some were solitary cruisers while others swam in small packs.
They were all over the place, like snowflakes in a blizzard.Gemi Murphy
Our guide led us to a small coral cave tucked away in the side of the pass at 40 meters. Once inside, I surveyed the most remarkable vision imaginable. It was an eye popper! Cruising just outside the cave was a parade of more than 150 sharks (I stopped counting after 100). As far as the eye could see, there were sharks lined up in formation, slowly swimming to and fro. They were waiting for the feed.
Ives uncapped his bucket of chopped fish and the scene turned electric. Now the sharks were darting in erratic flight, often bumping into each other as they competed for the food. At one point, the guide lost his bucket and it rolled down a coral slope. At that point, the feed turned into a frenzy, as sharks rolled and wrestled for the food. It was over in a minute, but that minute seemed like hours. I could feel the adrenaline rushing through my veins.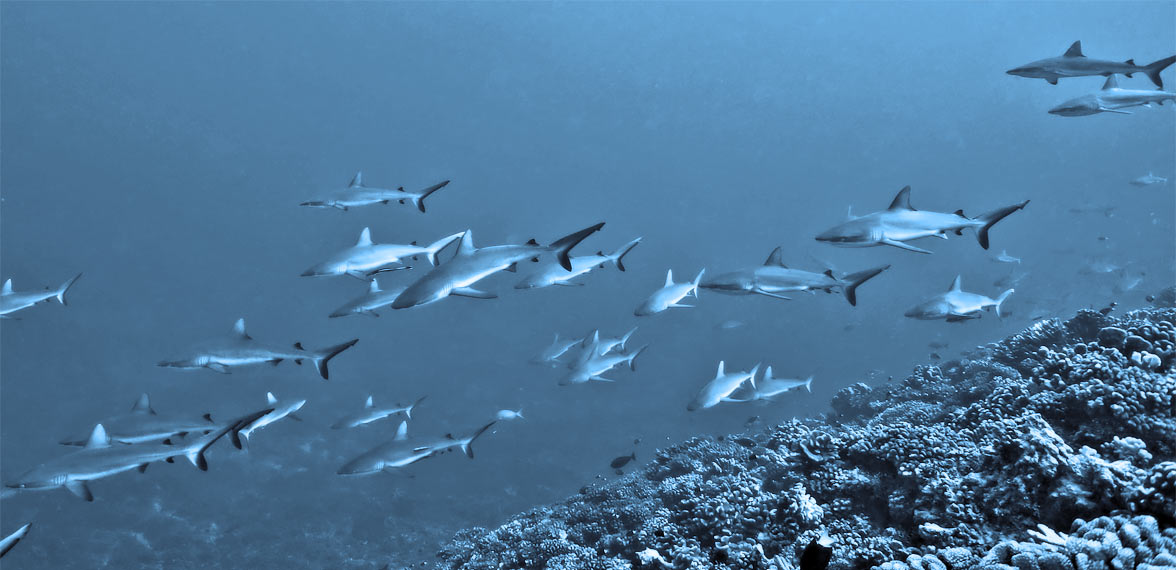 On another day, we took the yachts tender a mile outside Tiputa Pass to make what our guides described as the Pelagic Dive. This meant diving in the open ocean with the bottom 600 feet below. Oh boy, not the most comfortable feeling – but certainly a different adventure. As we descended to 50 feet, I could see eight Silvertip sharks rising straight from the deep like Polaris missiles. There is nothing quite as exhilarating as staring directly into the business end of a hungry shark.
Grey Reef Sharks swarm calmly around us, like Indians circling a wagon train in an old movie.Gemi Murphy
Grey Reef Sharks swarm calmly around us, like Indians circling a wagon train in an old movie. Instinctively, we divers formed a tight cluster with our tanks back to back. Every so often, one of the Silvertips would make a run toward us, often bumping our fins or being deflected by the guide's defence stick. It was both exhilarating and terrifying.
On the third day, we made a deep dive at the outer edge of the same pass. Our guides had told us about a pair of Great Hammerhead sharks, often seen on a deep coral plateau eating eagle rays. While we did not observe the feeding, we did spot the big Hammerheads (I mean BIG). Although we were some distance away, I would judge these creatures to be 16 to 18 feet long. During decompression, we drifted through the pass on the incoming tide, stopping at small coral caves to observe Whitetip Reef sharks snoozing in the dark recesses. During the drift we counted hundreds of slowly patrolling Gray Reef sharks.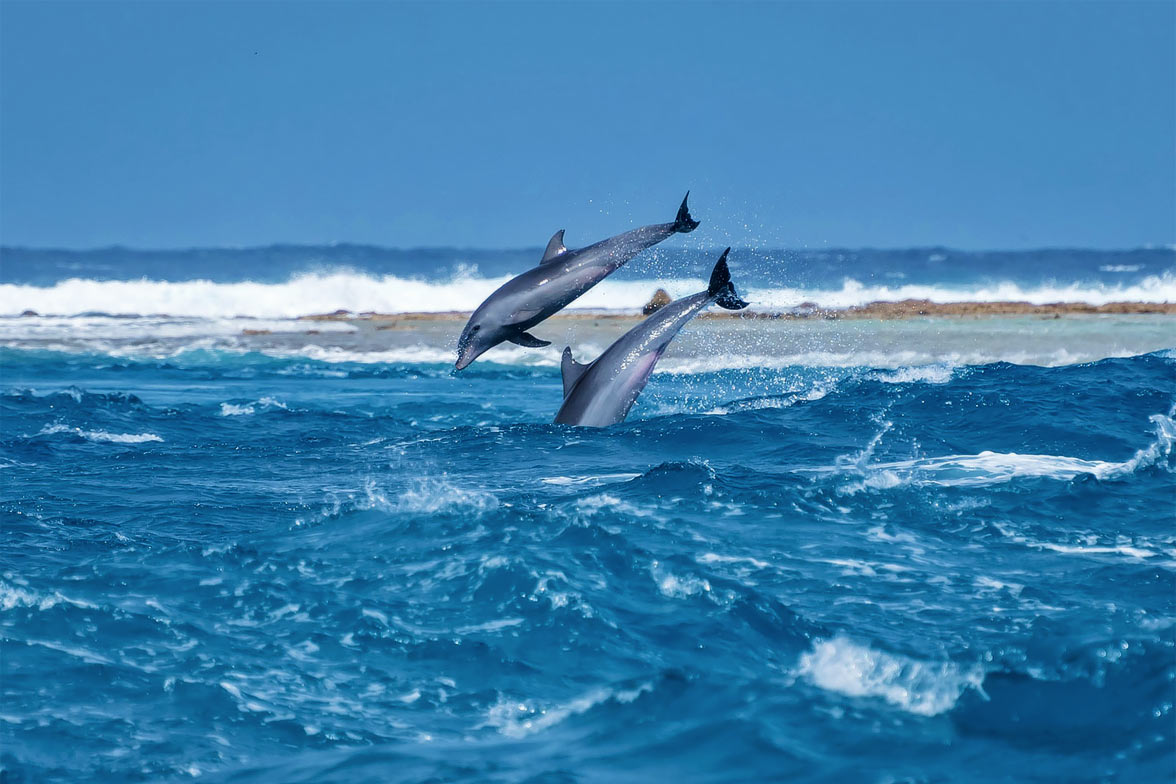 On subsequent days our shark diving was punctuated by encounters with dolphins, a giant manta ray, huge Napoleon wrasse, and very large moray eels. We explored small coral caves occupied by snoozing Reef Whitetip sharks. At other locations we encountered schools of bright red soldierfish, yellow & white Moorish Idols, and other exotic species. Every dive was a new adventure… a continuous stream for delightful discoveries.
This is but a small sample of Tahiti thrills that await visiting Superyachts. The variety of diving adventures is virtually endless.
Two things are for certain. Tahiti definitely has more sharks than people, and if you ever visit this South Seas paradise, you will want to return for more. This place is packed with both undersea beauty and breathtaking thrills.
Story by Gemi Murphy
Originally Published for Sport Diver.
Footnote: Contact Seal Superyachts French Polynesia for detailed information about cruising around French Polynesia, superyacht charter regulations and about how we can support your visit. Principle agent Pascal Bredin has been proud to have acted as agent for many of the Superyachts which have come to visit.
Contact Pascal Bredin at paco@seal-superyachts.com to discover more about the potential of cruising around French Polynesia.