Presented in 1953 to Prince Rainier and Princess Grace of Monaco by Aristotle Onassis as a wedding gift, this 147-foot yacht, which the royals christened Deo Juvente II, served as a honeymoon cocoon during the couple's nuptial cruise along the coasts of Sardinia and Corsica. Yet this romantic voyage was but a short chapter in the vessel's storied history.
Deo Juvente II was originally owned by Franco-Argentinean Jacques "Santiago" Soulas and launched in 1928 by Camper & Nicholsons. Soulas named the vessel Monica after his daughter. Four years later, the Soulas family sold the yacht, which then changed hands several times before being acquired by the British Royal Navy in 1939.
During its stint in the military, the yacht—then named Rion—was stripped of its finery, reinforced, and fitted with a 12-pound quick-firing gun on the forecastle, a couple of 40 mm Oerlikons next to the bridge, and a rack on the stern to hold eight 300-pound depth charges. After World War II, the vessel was decommissioned and returned to Camper & Nicholsons to be restored to its former opulence.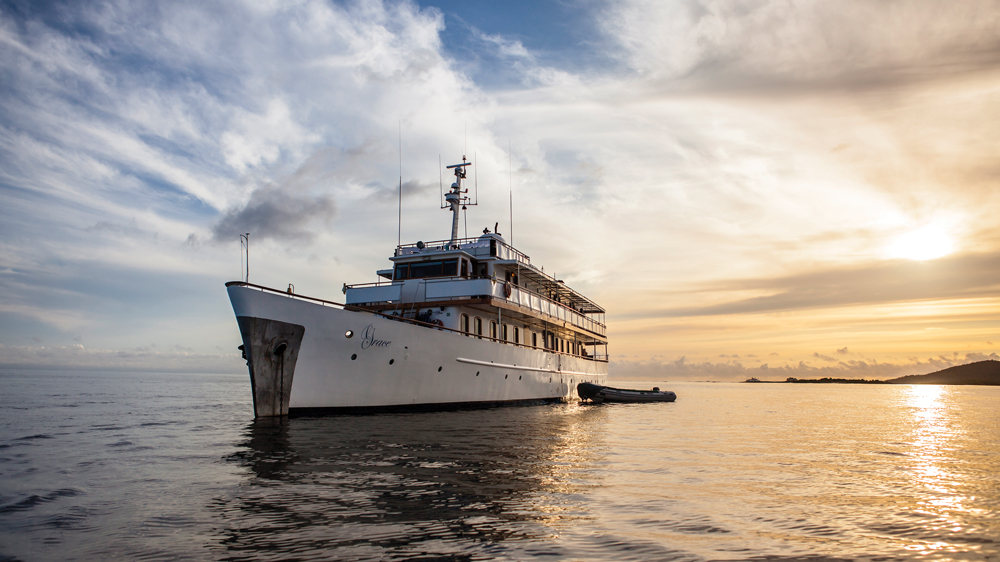 Quasar Expeditions Grace Yacht – Photo: Courtesy Quasar Expeditions
Aristotle Onassis bought HMS Noir in 1951 and rechristened it Arion. The vessel remained in his charter fleet for a couple of years until he gave it to Prince Rainier and Princess Grace, who enjoyed the gift until 1958.
The vessel changed hands several more times, traveling to the Caribbean and the East Coast of the United States. In 2007, Quasar Expeditions (866.481.7790, quasarex.com) bought the boat to charter in the Galápagos and bestowed its current moniker, Grace. "Our company purchased the yacht because of its rich history, unique character, and classic style. We knew it was going to add a whole new element to a Galápagos cruising experience that no other ship on the islands could offer," says Eduardo Diez Jr., commercial director for Quasar Expeditions. "It is probably now one of the most sought-after products in the archipelago."
The yacht was relaunched in October and cruises two different itineraries in the Galápagos Islands. Pricing for the regular season starts at $127,000 for the entire vessel, which accommodates 18 guests in nine cabins plus crew for seven nights and eight days; $6,600 per person for a deluxe stateroom; and $8,900 per person for the newly renovated Grace Kelly Suite.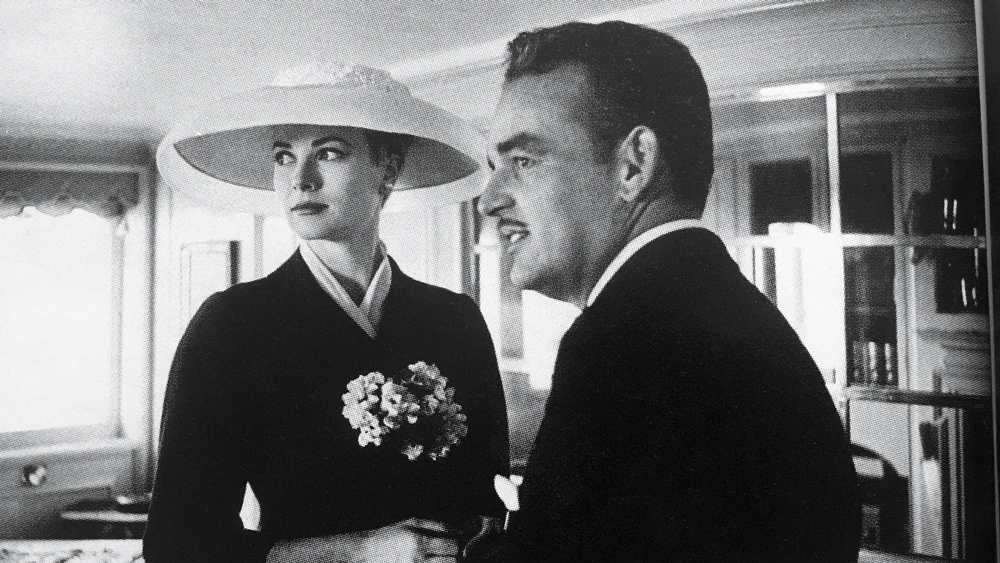 Prince Rainier and Princess Grace of Monaco – Photo: Courtesy
The Timeline
1928
Launched as Monica in Southampton, England, by Camper & Nicholsons, the 147-foot craft was named after owner Jacques "Santiago" Soulas's daughter.
1932
The vessel is rechristened Rion by new owner Zarch Couyoumbian.
1938
Prudential Insurance chairman George Tilley purchases the yacht.
1939
The British Royal Navy requisitions the vessel for wartime use.
1941
After some damage to the port engine, Rion becomes part of the Royal Navy Hospital.
1947
The vessel is returned to prewar owner George Tilley after its restoration at Camper & Nicholsons.
1951
The charter company of Aristotle Onassis acquires the yacht and names it Arion.
1953
Prince Rainier and Princess Grace of Monaco receive the yacht as a wedding gift from Onassis and rename it Deo Juvente II. Winston Churchill is one of the couple's many illustrious guests.
1958
A Monegasque businessman buys the vessel, which he calls Daska.
1960
The vessel is transported to the Bahamas by Crest Shipping and then to Montego Bay by Cove Shipping. Its new moniker is Angela.
1983
The yacht's name reverts to Daska, and it is seized by the Jamaican government.
1985
SuperClubs chairman John Issa purchases the vessel, changes its name to Zein, and refits it in Tampa, Fla.
2007
Quasar Expedition buys Zein and rechristens it Grace.
2017
During Grace's latest refurbishment, the apartment where Prince Rainier and Princess Grace honeymooned is remade into the Grace Kelly Suite.
Source:
Robb Report
Footnote: Contact Seal Superyachts Galápagos Islands for detailed information about cruising around Galápagos Islands, superyacht charter regulations and about how we can support your visit. Principle agent Antonio Moreano has been proud to have acted as agent for many of the Superyachts which have come to visit.
Contact Antonio Moreano at antonio@seal-superyachts.com to discover more about the potential of cruising around Galápagos Islands.