Family Hauls $1 Million Treasure from Sunken Spanish Armada
Orlando, Florida, with a hilarious underwater video of the discovery
For a few weeks, the Schmitt family and 1715 Fleet — Queens Jewels LLC had a million-dollar secret on their hands.
Last month, they recovered $1 million worth of sunken Spanish coins and jewels off the Florida Coast.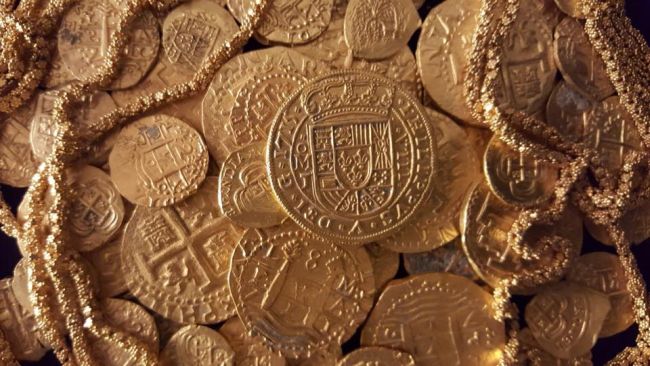 "The treasure was actually found a month ago," said Brent Brisben of 1715 Fleet — Queens Jewels LLC. Keeping the news under wraps was "particularly hard for the family that found it. They've been beside themselves."
Recovered:
51 gold coins
40 feet of ornate gold chain
A single coin called a Royal made for the king of Spain, Phillip V
Only a few are known to exist, and the coin — nicknamed "Tricentennial Royal" — is dated 1715.  Brisben said the extremely rare silver-dollar-sized coin is worth "probably around half a million dollars itself."
The Schmitt family struck gold "in September 2013 after finding 50 feet of gold chain and an amazing gold filigree pyx in 2014," the news release states. They are subcontractors to 1715 Fleet — Queens Jewels and found the most recent treasure in shallow waters off Fort Pierce.
The timing of 1715 Fleet's announcement coincides with the 300th anniversary of the Spanish treasure fleet's shipwrecks off the coast of Florida.
Read more here – Florida family finds sunken Spanish treasure