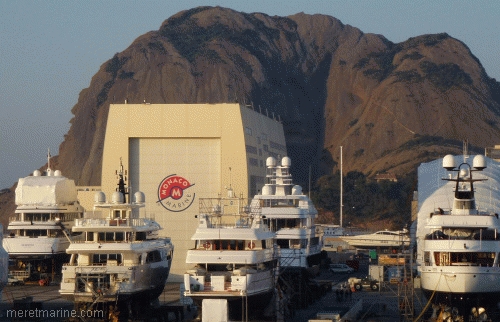 La Ciotat, Monaco.  Monaco Marine enjoyed another busy and successful winter maintenance period, during which time more than 50 yachts visited the yard for works ranging from basic maintenance to complete interior refits and full exterior paint work. Of the standout paint projects delivered by our team, there are two of which the yard is particularly proud: RAASTA and PREDATOR.
For Heesen's 47m RAASTA the challenge was to achieve exceptional quality standards in a tight timeframe and Monaco Marine are pleased with the results. Having committed more than 30 painters over a 14-week period, the increased man hours and overtime paid off. According to independent paint surveyor Marten Heetebrij of MYPAI, the technical and aesthetical finish of RAASTA is "one of the best" he has seen during his years of surveying. The gloss finish on the hull and superstructure was several units above Icomia standards.
Feadship's 72m PREDATOR was under wraps in the yard's custom-built paint shed for four months while she underwent a complete rejuvenation of her exterior paintwork.  The team worked tirelessly to achieve her perfect finish including a show coat. This was no mean feat given how challenging it is to work with a colour such as Majestic Blue. Even more challenging was the fact that the hull has three other colours (white, red and silver-grey) in addition to her signature blue.
See more here on ICOMIA Superyacht Refit Group's site:  Another winter over, another busy season at Monaco Marine