A Superyacht Cruising Guide for Seychelles
Sailing the most beautiful archipelago on Earth.
Posted on by Seal Superyachts
Occupying some 1,350,000 sq. km of territorial water, the Seychelles archipelago's islands fall into two distinct groups. Fourty-three of its 'Inner Islands' are situated on a relatively shallow submarine bank known as the Seychelles plateau, while seventy two low-lying, coralline 'Outer Islands' extend in a gleaming arc towards the east coast of Africa.
The islands fall into six groups. The first is the 'Inner Island' group of the main islands of Mahé, Praslin, La Digue and the surrounding islands up to a distance of 100 km. Next is the Amirantes group, 250 km south west of Mahé, the Southern Coral group, Alphonse group, Farquhar group and finally the Aldabra group, 1100 km from Mahé.
Sailing around Mahé
Mahé, the largest island (27km x 8km) in Seychelles is home to the international airport and the capital Victoria. Mahé's beauty cascades from 905 metre high granite peaks through lush forests down to more than 60 beaches. North Mahé, in particular Beau Vallon, the hub of the islands tourism, offers excellent moorings and tends to be busier than other areas while pastoral south Mahé enjoys a pace of life all its own. Colourful Victoria, only minutes from the main port and Yacht Club, can be walked in half a day, leaving time for a visit to the colourful market, some shopping or a taste of the delicious Creole cuisine. Mahé's picturesque coastline allows easy access to secret coves, silver beaches and beachside restaurants and also offers good moorings in the Marine Parks of Port Launay, Baie Ternay and Set Anne.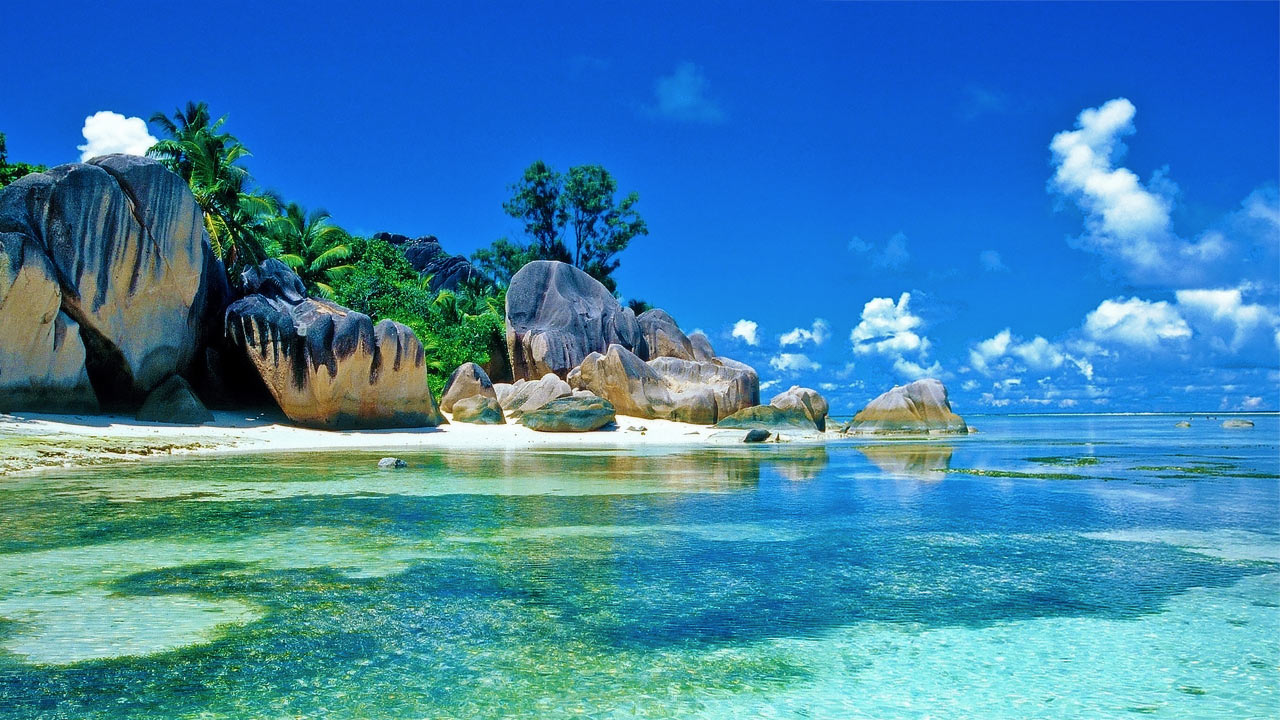 Sailing around Praslin
Praslin, Seychelles' second largest island has a population of only 6,200 people and a truly enviable pace of life. Home to the extraordinary Vallée de Mai where the legendary Coco-de-mer grows high on ancient palms, Praslin stands at the forefront of the country's hospitality industry with stunning beaches such as Côte D'or and Anse Lazio that are counted among the world's best and a fine range of hotels, guesthouses and restaurants. There are excellent moorings at Côte d'Or, Grand Anse and Baie Set Anne where a range of shops and services can also be found. Praslin is an ideal base for trips to the nearby islands of Curieuse, St Pierre, Aride, Maryanne, Round and La Digue.
Sailing around La Digue
La Digue has the reputation of being the island in Seychelles where time stands still. Traditional is still king on this, the fourth largest island after Silhouette, in the form of ox-carts, bicycles – and the gentlest pace of life. The main mooring is at the quaint jetty at La Passe, only a stone's throw from the shops and from a string of hotels and restaurants that are either within walking distance or just a short bike ride away. La Digue boasts some of Seychelles most prized beaches such as Anse Source d'Argent with its striking granite formations. It is also home to the 'Vev" Special Reserve and the attractions of L'Union Estate. The charm of surrounding islands such as the Sisters, Félicité, Coco and Marianne make La Digue a worthwhile inclusion in any itinerary.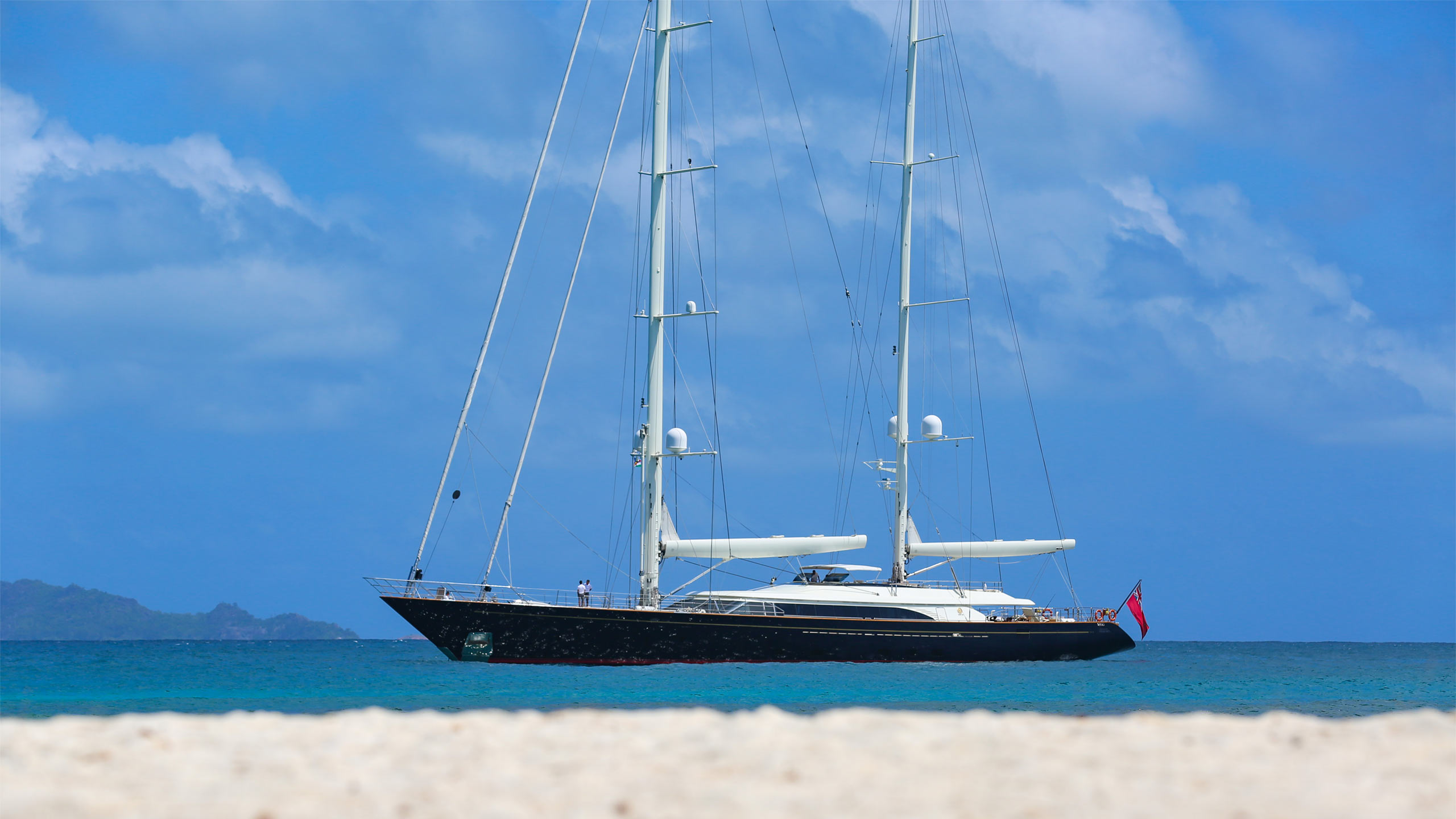 Winds
There are two opposing wind patterns in Seychelles, blowing seasonally either north-westerly (December to March) or south-easterly (May to September). In general, north-westerly winds strengthen at daybreak with average wind speeds of between 10-12 knots. However the north-westerly trades often have intermittent rain squalls and winds gusting to 40 knots at the squall fronts are not uncommon. The south-easterly trades are drier and tend to blow more consistently throughout the day and into the night. Average wind speeds are 12-15 knots increasing to 20 to 25 knots during the peak of the season in July and August. In October / November and in March / April there are calm and sometimes windless periods when the trade winds change direction. These light and variable wind periods are accompanied by calm seas and clear waters. Weather forecasts are available by calling 'Seychelles Radio' (Coast Station) on VHF channel 16 and normally switching up to channel 26. Yachts may also place a radio link call via Seychelles Radio.
Sailing around other Islands
Unforgettable sailing to the remoter Inner Islands such as Bird and Denis 100 km to the north of Mahé, and Frégate Island 55 km to the east, is matched only by the adventure of setting sail for the very different world of the Outer islands beyond the Seychelles Bank. The islands of the Amirantes such as Desroches, d'Arros and Poivre, 250 km to the south west, offer exceptional sailing in virgin waters where only the privileged few have sailed. Further afield still, the Southern Coral, Alphonse, Farquhar and Aldabra Groups are where the abundant natural beauty of virgin islands still await the visit of adventurous seafarers. This prospect of untouched islands, sun drenched beaches and turquoise lagoons is the ultimate prize for sailors wishing for a taste of timeless beauty amid calm, uncrowded waters.
Sea Conditions
Throughout Seychelles the ocean is subject to currents that develop with the trade winds with speeds of 0.5 up to 1.5 knots. The currents over the Seychelles Bank is on average 0.4 to 0.8 knots and increases around local obstructions and headlands. The effects of the tides are more noticeable within the Inner Islands than the ocean currents and are generally less than a knot, increasing to up to 2 knots in channels between islands or close to underwater ridges. Tides are semi-diurnal and asymmetrical with about 6 hours between high tide and low tide; with the tidal range, around the Inner Islands, as high as 2 metres at spring tides and as low as 0.9 metres at neaps. Tides give rise to currents that can be strong in the channels leading to lagoons, which may empty completely at low tide. The tidal range at Aldabra is 4 metres at springs and 1.8 metres at neaps. Swells are generally moderate with waves of up to 1 to 2 metres becoming higher only in strong winds on open water. Currents and upwellings around the Amirantes Bank often cause choppy conditions in a small area whilst currents in the Aldabra region run up to 2.5 knots and tidal streams around the atolls reach 3 knots at spring tides.
Moorings / Navigation
Sailing within the Inner Islands is easy and safe, with sailing distances of under 30 miles between mooring grounds. Mooring buoys are provided in several locations but otherwise anchoring is required. In line with Seychelles' eco friendly policies, anchoring on coral is strictly forbidden. Good sand bottom anchorages with depths of 5-8 metres may be found in most of the desired overnight areas. In the Outer Islands that lie between 130 and 600 miles from Mahé, navigating is more difficult due to the presence of low-lying coral reefs and other hazards. The mooring grounds of many Outer Islands are less sheltered and the waters between them less frequently sailed. 1/10000 scale charts of the ocean surrounding the islands have been published as mooring guides and are available at our offices.
Due to the remoteness of the islands and the infrequency of mapping surveys the correct depths (surroundings) are sometimes missing or inaccurate, so care should be taken to sail cautiously over the mooring zones and in waters surrounding the more remote islands. Do not trust the printed figures blindly as coral bottoms can vary constantly (obliging the skipper to be alert to the sounder at all times). Navigation aids are provided at Port Victoria and at the entrance to the Port, as is the case at the Baie Set Anne jetty on Praslin. Apart from this there are a few lights with charted characteristics positioned on headlands of Mahé and Praslin. Otherwise navigation is by pilotage and the return to compass, chart and feel is a most refreshing change from the world's buoyed and beaconed waters. Sailing by chart is both enjoyable and rewarding and with due care for the well charted rocks and reefs makes Seychelles a delight to navigate. Most of the severest offshore rocks are visible by eye but do not carry buoys or lights. Self-skippered yachts are nevertheless limited to daylight hours only and are required to be at anchor by nightfall. The art of sailing is a combination of reading the weather, using it to one's advantage, avoiding dangers and using depth, bearings and transits to navigate freely, enjoy the voyage and finally to anchor in a safe and beautiful location. Seychelles provides this in abundance as well as the rare freedom to be able to sail almost anywhere.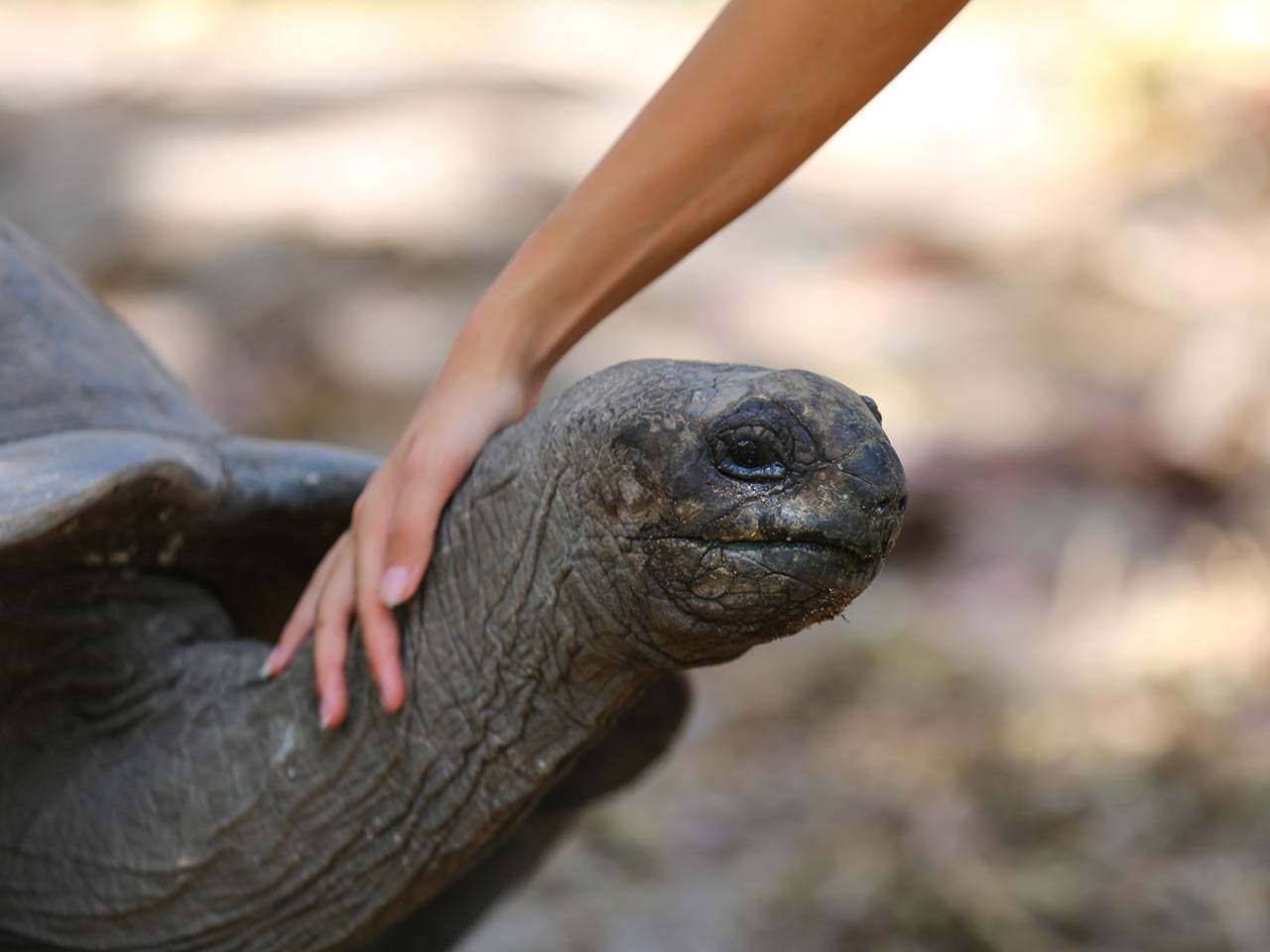 Fees and Regulations
In line with Seychelles' long standing policies designed to preserve its unique and fragile ecology, access to certain islands and protected marine park areas is limited and requires permission, and payment of a landing or entry fee. Access to these ecologically sensitive areas are managed by various conservation organizations. Protected areas are for the preservation of the environment and subsequently for the enjoyment of the visitor and gaining access to these areas has been streamlined and should present no problem for a yacht to visit on spec. Simply arrive and anchor in the demarked zones and the marine park officials will come out and visit the yacht. Centrally located in the region, Seychelles is a naturally attractive destination for any yacht visiting the Indian Ocean.
Located outside the cyclone belt with no risk of contracting malaria, yellow fever, cholera or other common tropical diseases and with a sublime tropical climate, it has the potential for a carefree, year-round cruising season. Straightforward Immigration (no visas required) and health regulations also make for an uncomplicated, hassle-free stay.
Seychelles is a sanctuary. Not only for its 81,000 strong population and the extraordinary bio-diversity of its pristine islands – but also for the select number of tourists who make the pilgrimage to its world-beating beaches, magnificent coral reefs, untouched forests and exotic hideaways.
Seychelles remains, quite literally, a 'breath of fresh air' and a powerful antidote to the stresses and strains of modern living. Its long-standing reputation for stability and social harmony make for a friendly society in which the visitor will instantly feel welcome and secure. In this tranquil yet vibrant culture English, French and Creole are the three official languages with German and Italian also spoken by some.
This exclusive destination has a great deal to offer. Enlightened conservation measures have ensured that almost half of the limited landmass has been set-aside as a "living natural history museum", boasting some of the rarest species of flora and fauna on earth – a heaven for ornithologists and nature lovers.
Seychelles is already home to two UNESCO World Heritage sites, the fabulous 'Vallée de Mai' on the island of Praslin and 'Aldabra', the largest raised coral atoll on earth. The islands also provide spectacular opportunities for safe swimming, snorkeling and diving in warm, crystal waters fringing beaches of powder-soft sand, framed by age-old granite boulders and lush palm forests.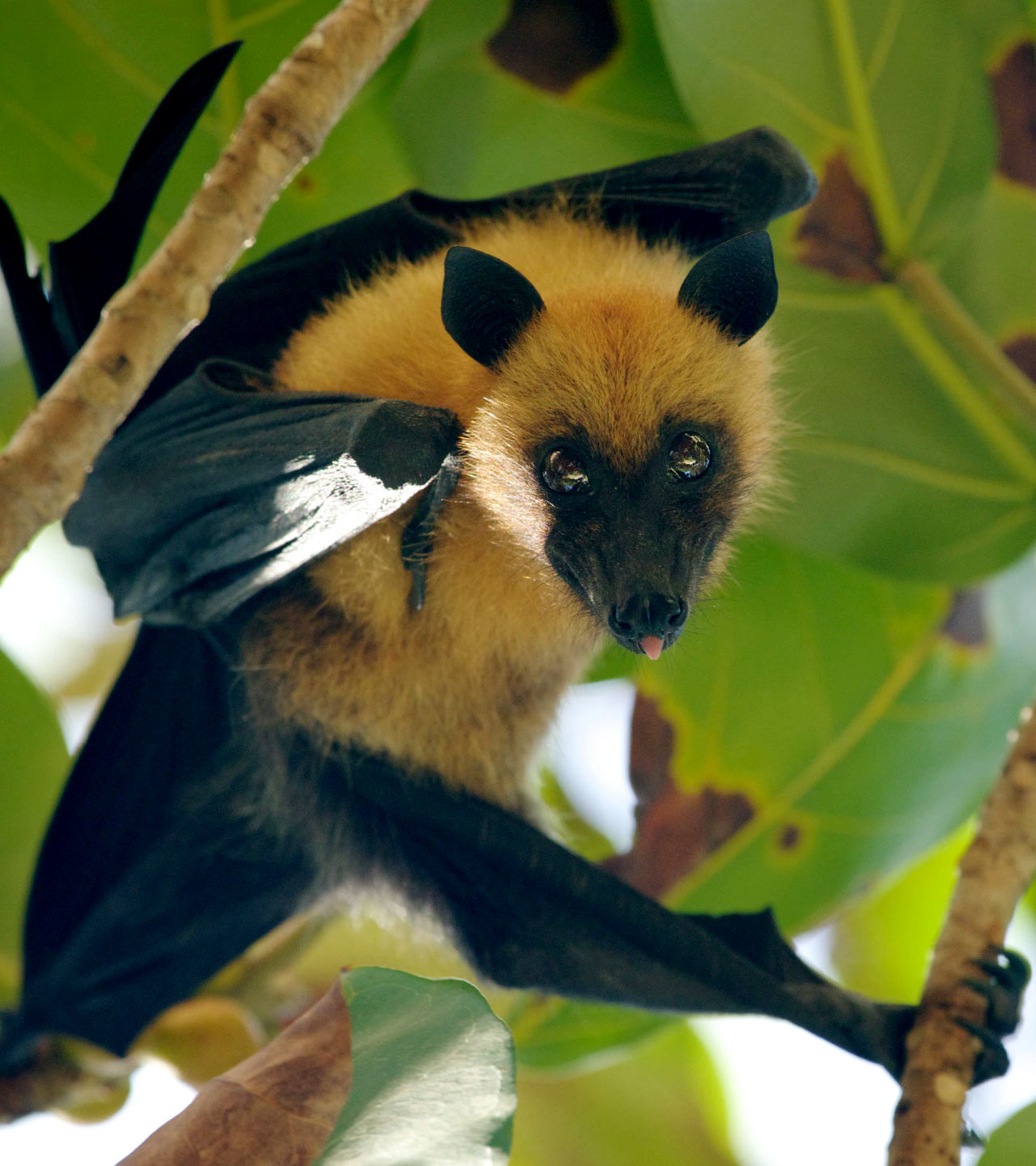 Victoria, the charming capital and one of the world's tiniest, is situated on the main island of Mahé within walking distance of the port and is a convenient stepping stone to discovering the charms of island living as well as the attractions of island-hopping. Throughout all the principal islands you will discover quaint galleries, craft shops, old Creole-style plantation houses, scenic viewpoints and natural wonders above and beneath the waves. An efficient network of inter-island boats, aeroplanes and helicopter transfers can accommodate almost any tailored schedule.
Seychelles has long been recognized as the jewel in the Indian Ocean's crown, and represents a last exotic frontier for vessels wishing to escape the congestion and convention of the more common ports of call.
Destinations: Indian Ocean, Seychelles
Footnote: Contact Seal Superyachts Seychelles for detailed information about cruising around Seychelles, superyacht charter regulations and about how we can support your visit. Principle agent Alastair Maiden has been proud to have acted as agent for many of the Superyachts which have come to visit.
Contact Alastair Maiden at seychelles@seal-superyachts.com to discover more about the potential of cruising around Seychelles.