Of course, today was significant for the owner, too. Hailing from Belgium, he took along a number of family and friends to watch Seven Sins slide into the water. Local officials, plus the Sanlorenzo craftspeople who contributed to her build over the past two years, attended, too.
The 170'6" (52-meter) megayacht has accommodations for 10 of those family and friends below decks. Two VIPs and three guest staterooms comprise the cabins. The master suite occupies customary main-deck floorspace. Seven Sins also has the usual main saloon and skylounge (a.k.a. upper-deck saloon).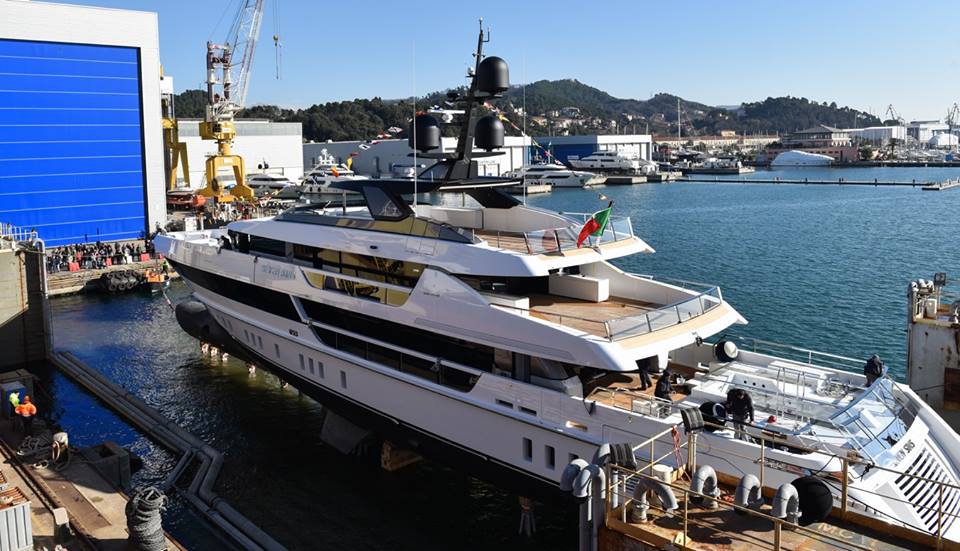 Something new for Sanlorenzo, though, the 52 Steel features a significant swimming pool fully aft on the main deck. It's fitted with a glass bottom, too, bringing light into the beach club below. The owner of Seven Sins liked this arrangement, as much as he liked the fold-down side hatches in the beach club. Yet another first for Sanlorenzo, the beach club turns into a floodable tender garage. Maximum LOA for the tender: a healthy 26 feet (8 meters).
The equally healthy 30'8" (9.4-meter) beam aboard Seven Sins afforded the owner the ability to make relaxation areas quite comfortable. Sanlorenzo isn't revealing images of the decor at this point. However, you can see them in person when Seven Sins premieres at September's Monaco Yacht Show. They include a gym forward of the beach club/tender bay, plus accommodations for nine crewmembers.
Sanlorenzo expects sea trials to confirm an 11-knot economical speed and 17-knot top end, with MTU power.
The launch of Seven Sins comes on the heels of a related announcement regarding the 52 Steel. Sanlorenzo signed a contract for hull number three in the series this week. Hull number two started construction last year, set for delivery in April of next year.
Source:
Megayacht News