[title_small title="Graham Frost – Seal Superyachts' Director" /]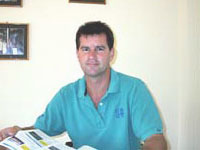 After having served for five years in the British Army's Royal Engineers, Graham Frost's professional career in the marine industry started in 1988 as skipper / owner / operator of one of South East Asia's most successful charter yachts. This enterprise developed into a company offering diving, surfing, sea-kayaking and adventure sailing charters in Thailand, Myanmar (Burma), Indonesia and India. The company – SEAL (South East Asia Liveaboards Co Ltd) – now owns four boats, operates from its own premises in Phuket, and employs up to 36 staff.
Graham started SEAL's Superyacht services division in 1992 which since it's inception has handled virtually all visiting Superyachts to Phuket and has developed a full range of services to satisfy even the most demanding captains and owners.
Obtaining the first license ever from the Burmese authorities (December 1997) to take foreign registered yachts into Burmese territorial waters, Graham has personally guided many visiting Superyachts through the pristine Mergui Archipelago putting it on the list of places that 'must' be visited in Asia.
In 2000 Graham conceived the idea of holding a Superyacht social event in Phuket, Thailand. This idea developed into the Phuket Invitational, a highly enjoyable occasion which is set to become an annual feature of the Superyacht calendar. Contact Graham
[title_small title="Adam Frost – Seal Superyachts' Director" /]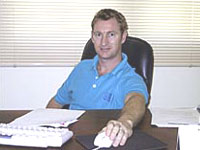 At the end of a four-year mechanical engineering apprenticeship in England, Adam Frost graduated as a fully skilled EITB craftsman. On completion of his training in 1988, he joined forces with his brother Graham where they purchased their first liveaboard dive yacht 'Crescent', in Hong Kong. After a six-month refit, they sailed to Phuket and started operating successful liveaboard dive charters to the Similan and Surin Islands, Thailand.
After their first season of operations, Adam took over the captaincy of 'Crescent' from his brother Graham. He then held this position for the next five years. In which time he was responsible for the successful operations of literally hundreds of dive charters in the Andaman Sea. Whilst serving as captain, he also had the opportunity to take the vessel on a commercial treasure hunting exploration off of the coast of Vietnam, as well as operating numerous pioneering dive charters in Malaysia, Indonesia and Burma.
Adam is also one of the founding partners of SEAL (South East Asia Liveaboards Co Ltd) and SEAL Superyachts Co Ltd. With such intimate knowledge of the local waters, Adam has personally guided many notorious Superyachts into the Mergui Archipelago, Myanmar. This beautiful region is largely unknown and unexplored by foreigners.
Adam is currently at the very hub of operations, directing the future of both of these successful companies.