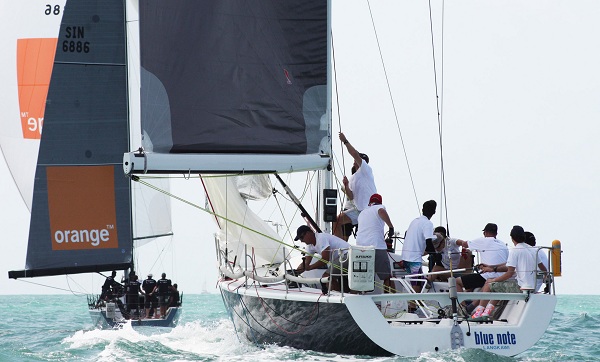 PHUKET – It all came down to the final day of the 2014 Cape Panwa Hotel Phuket Raceweek. After the unprecedented abandonment of racing for all classes yesterday, the pressure was on to get a final race (or more) completed, introduce the drop in some classes, and give everyone a fighting final day chance.
The Phuket forecast wasn't looking great and after approximately an hour searching for some breeze, Principal Race Officer Simon James set a startline between Lone and Hei islands and got the fleet underway. An islands course around Hei and Aeo for the Multihull Racing, Cruising, Charter/Bareboat and Classic classes was the order of the day, with a short windward/leeward for the rest.
Coming into the start on port tack, Foxy Lady VI headed off towards Aeo Island while the rest of the fleet took the other side of the course. Early up the leg Blue Note and Fujin tacked to follow Foxy Lady VI while Oi! and Island Fling stuck to their guns. As they rounded the top mark, Oi! and Island Fling had got the better of the first upwind leg while Foxy Lady VI had slipped back and looked to have chosen the wrong side of the course.
Read the full final report here on Phuket Race Week's site:  Final day shakes up the standings