Port Hercules, Monaco.
Although delivered as far back as October 2013, the Espen Oeino designed, Lürssen built 85 metre superyacht was a stand out attraction at the show this year.  Her maiden appearance in Monaco drew considerable interest, from prospective owners and industry attendees alike – with a steady flow of traffic around Quai Rainier.

Some of the key specifications were revealed at MYS 2014, with a flood of information being offered up on technical aspects, powerplant and internal features which had previously been under wraps or the subject of speculation.  We can now see that her top speed is 17 knots under the propulsion of twin CAT 3516 engines producing 2000 kW of power at 1,600 RPM- with an optimum cruising speed of a more than adequate 12 knots.  The cruising range (at the prescribed 12 knots) as an impressive 6,000 Nautical Miles, which will give the owners plenty of choice when planning Solandge's future itineraries.
Solandge displaces around 2,290 tonnes, and draws at most 3.9 metres along her 73.5 metre length along the waterline.  She can accommodate 12 guests, in addition to the two owners, and can currently handle a crew complement of 29 spread around 15 cabins.  Toys & Tenders on board consist of a 10.5 metre NAIAD Rib centre console, a Fassmer 625Y Rescue Boat (measuring 6.25 metres) and a Centurion Enzo 7.3 metre wake boarding tender.
Download the full specifications here from the Lürssen MY Solandge press kit.
Aileen Rodriguez' Interior Designer Statement – MY Solandge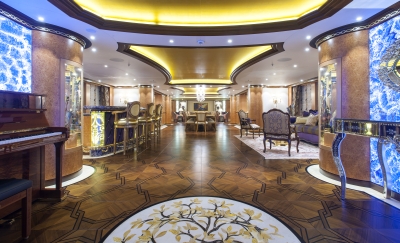 "The initial brief from the client was no different than most others.  We were presented with a list of wishes that we endeavoured to translate and fit with style and grace.  Since I have had the privilege of knowing the owner and his family from previous projects, it made this one all the more important as an opportunity to show them that my design skills could be pushed.  
The owner's visions for the boat were manifold, but a very important one was that they wanted to walk into a very elegant main salon.  We accomplished this by giving them two magnificent side walls of back-lit amethyst, flanked on portside by a Bechstein piano and a beautiful Venetian console with a mirror on the starboard side"
Excerpt from the Lürssen Solandge Designer press kit at MYS 2014 – download the full statement here