The business of yacht charters is a booming industry in the Seychelles archipelago of 115 islands.
From Seychelles News Agency
The beautiful island destination is characterised by a diverse array of lush green islands set within glittering turquoise reefs teeming with abundant marine life, an ideally secluded and romantic spot favoured by some of the most rich and famous people in the world.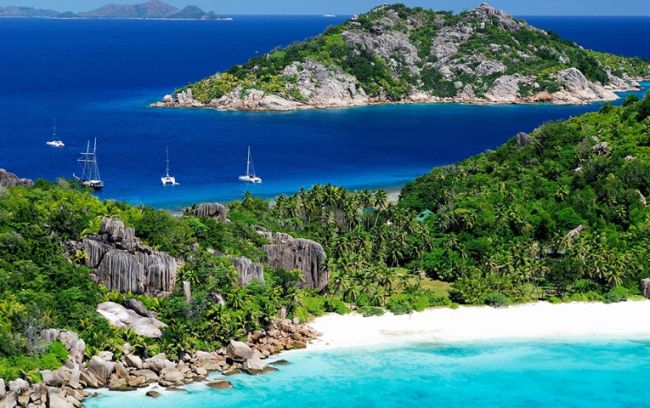 According to a recent insert published last Friday on the BBC's Africa Business Report, wealthy travellers are increasingly opting to charter luxury yachts as the perfect way to unwind in total privacy.
Graham Gower, the captain of a Seychelles-based four-cabin luxury Ferretti 761 yacht called 'Sea Stream', the majority of his clientele are well-to-do European travellers, and are more than able to stomach the hefty price tag associated with chartering the vessel.
A one-day cruise for up to four couples could hit the pocket pretty hard, costing around 6,800 Euros per day for between 8 to 12 hours on the ocean, and a longer week-long charter could cost around 45,000 Euros, but Gower says this is becoming a popular alternative to hotel accommodation.
"Basically every single day you can wake up in a different bay, go to sleep at night, tell the captain where you'd like to wake up tomorrow morning and voila!"
"If you are looking at one of the top resorts it doesn't cost you a lot more to be on a boat," he told the BBC.
Gower said that many wealthy businessmen buy luxury yachts without appreciating the high costs of running and maintaining the vessels, resulting in the majority of them being put out to the charter market.
"The charter industry in the Seychelles has faced a few challenges; the main challenge being the whole piracy issue – around 2009 there was a lot of active piracy in the region," he said. "This year I find the piracy issue has died down and we are a lot busier; the whole industry seems to have picked up although the whole economy seems to have taken a bit of a dip, the charter industry seems to be picking up nicely in the Seychelles."
According to Swiss bank UBS and Wealth-X's annual World Ultra Wealth Report for 2014, the super-rich spend up to $22 billion each year on yachts and yacht charters.
Read the full article here:  Yacht charters: an increasingly popular option for the traveller seeking privacy in the Seychelles
For more information on cruising on the Seychelles, or to arrange your superyacht charter to visit – please contact Seal Superyachts Seychelles