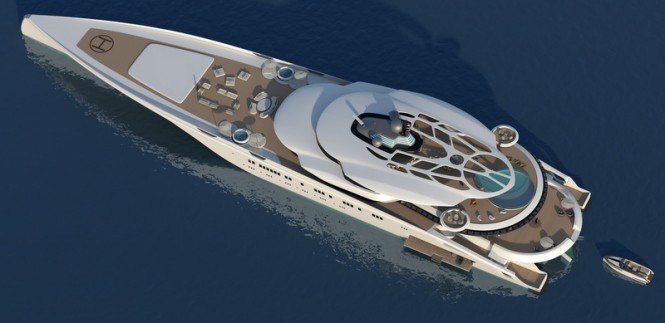 Germany-based designer Roland Friedberger of RF Yachts is proud to present the latest motor yacht Assina concept. Superyacht Assina concept is a breath-taking 135m trimaran, boasting an impressive beam of 28 meters.
Externally, luxury yacht Assina concept features a beautiful Sundeck with Wheelhouse and Gym, and a 84-sqm round pool. There is also a large front deck with heliport, which can be fitted with 2 tennis courts, while the private sun deck for the owners offers two popular Jaccuzzis.
Internally, super yacht Assina concept features a beautiful and generous 650-700 sqm panorama Salon, providing a 270-degree view from the center point. The Salon can be also used for live bands or as a theater, and can comfortably accommodate for dinner an impressive number of 300 guests.
Read more here:  http://www.charterworld.com/news/roland-friedberger-rf-yachts-introduces-135m-motor-yacht-assina-concept