Pride Mega Yachts revealed their striking new 108.8m project "Tomorrow" at the recent Monaco Yacht Show. The project is currently being finalised, with engineering work commencing soon. Construction will begin in 2015.

Able to host up to 26 guests, with 30 crew, Tomorrow is a spacious six deck vessel. Naval architecture is by Azure Naval Architects and the exterior and interior design by Sinot Exclusive Yacht Design. A design for the future, Tomorrow represents the positivity and hope that the future holds, and encompasses a drive for forward-thinking innovation.
The design team for Tomorrow drew inspiration from Xian Dai, the new era of modernity, an age in which new visions and exciting technology generate prosperity and a higher quality of life. Understanding that yachting will increasingly be the choice of those looking for quality family time and an escape from the confines of everyday life, Tomorrow is a sanctuary for those looking to enjoy cruising the world's beautiful waters.
Providing independence and comfort, Tomorrow is a versatile design, suited as a family yacht, an exploration base and for socialising and high end entertainment. The interior styling is centred around a luxurious laid back beach style, personalised by the owner's choice of artwork. Warm and open spaces are embellished with custom furniture, rich materials, intricate patterns and complementary natural textures.
INTERIOR SPACE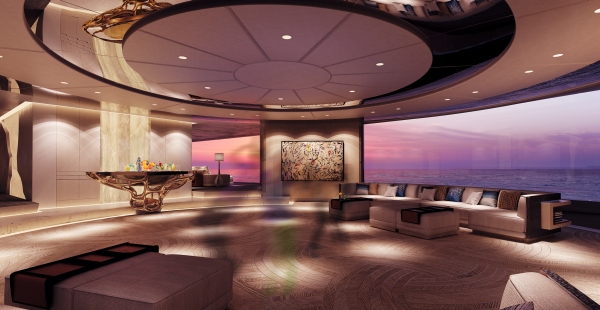 Characteristic of all Pride Mega Yachts' projects, Tomorrow boasts an impressive interior volume of 4800GT, with space and height a key feature throughout every space. A modern design, with sweeping lines and circular forms, creates a functional yet spatial experience. Curved ceiling-to-floor glass and paneling on the three top decks of the superstructure and the two other aft decks open up unobstructed views and easy access to the outside areas. This spacious feeling flows through into the main lounge which has an imposing interior height of almost three metres.
A special interior feature is a large nautilus shell inspired staircase, connecting all decks except the sun deck. The staircase is highlighted by a circular skylight that bathes every deck in natural light.
EXTERIOR SPACE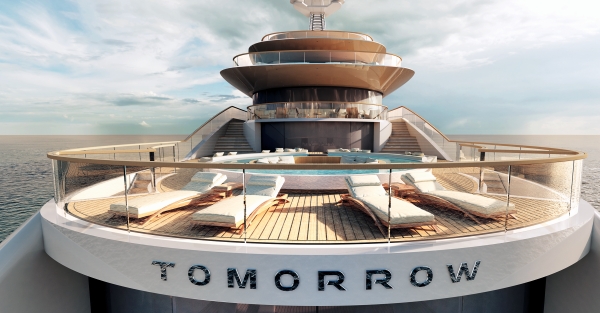 Tomorrow maximises all exterior spaces, with a focus on social interaction. Stunning views combine with well equipped spaces, replete with sunbeds, pools and Jacuzzi's. On the main deck a striking circular pool with recessed seating is a focal point.
Sliding ceiling-to-floor glass doors seamlessly connect the exterior to the interior spaces. Accessibility to the aft decks is further facilitated by a split level set-up which accommodates the royal half-circular exterior stairs. On the aft deck, a swim platform connects to a large indoor beach club, allowing guests to enjoy time close to the sea.
OWNER'S DECK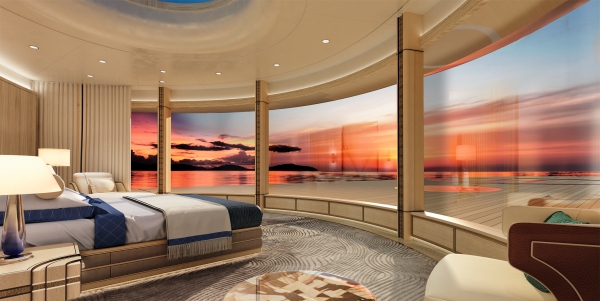 Nowhere is the space on board Tomorrow better demonstrated than on the owner's private deck. The owner's stateroom features an almost floor-to-ceiling glass facade, while a huge circular skylight is a window to the skies and stars. Bleached walnut back-wall panels, silk carpets with a textured wave pattern and exclusive sunburst marquetry veneer on the doors bring further richness and refinement.
The owner's aft deck lounge will allow the owners to enjoy close proximity to the sea from rotating seating by the glass doors that lead out to the aft deck. A light dome in the teak ceiling allows for different moods and ambiances to be created.
A private owner's lounge is a welcome area of retreat, offering enhanced privacy to allow rest and relaxation in a more intimate atmosphere. High quality hardwood flooring flows through from the interior to merge with the exterior deck, once again emphasising the connection between the inside and outside spaces.
"Tomorrow" – Specifications
Project Name: Tomorrow
Builder: Pride Mega Yachts
Naval Architect: Azure Naval Architects
Exterior Design: Sinot Exclusive Yacht Design
Interior Design: Sinot Exclusive Yacht Design
LOA: 108.8m / 356'9"
Beam (max): 16.3m / 53'4"
Draft (max): 4.2m / 13'7"
GT: 4,800GT
Hull material: Steel
Superstructure material: Aluminium
Guest Accommodation: 18-26 guests (6-8 guest cabins, 2-4 VIP cabins, owner stateroom)
Crew capacity: 32-34 crew (28 crew, 2 officers, 1 engineer, 1 captains, 2 staff)
Main engines: 2 x MTU 16V4000 M 73 – 2560 [kW] | 2 x 600 kW E-motors
Generators: 4 x MTU 16V2000 m51A – 665 [kW]
Stabilisers: Rolls Royce Aquarius 100 Zero Speed retractable fins
Maximum Speed: 18kts
Cruising Speed: 14kts
Range: 5,000 nm
Fuel capacity: 330,000lt
Fresh water capacity: 90,000lt
About Pride Mega Yachts
Pride Mega Yachts is the specialist superyacht arm of CIMC Raffles, based in China's Yantai Peninsula in the Bohai Gulf. With more than 25 years of experience in the world of shipbuilding and super yachts Pride Mega Yachts can count numerous high-quality international projects to their name. Pride Mega Yachts designs and builds its yachts with an experienced, international team of world-class consultants and designers to European standards. The use of tested, state-of-the art technologies allows for an unwavering focus on innovation and sustainability.
For additional information, quotes or images please contact:
Fran Liu
Fran.liu@pridemegayachts.com