Two new marinas are to be built in Phuket as part of the government's plan to stimulate economic growth by turning Thailand into a marine leisure hub in the ASEAN region.
From Phuket Gazette Thailand
The marina development plan, announced by Transport Minister Arkhom Termpittayapaisith, includes construction of eight new marinas – four in the Andaman Sea and four in the Gulf of Thailand – to service large yachts, including superyachts, along coastal areas in five provinces: two in Phuket; two in Phang Nga; two at Koh Samui; one in Chonburi and another in Trat.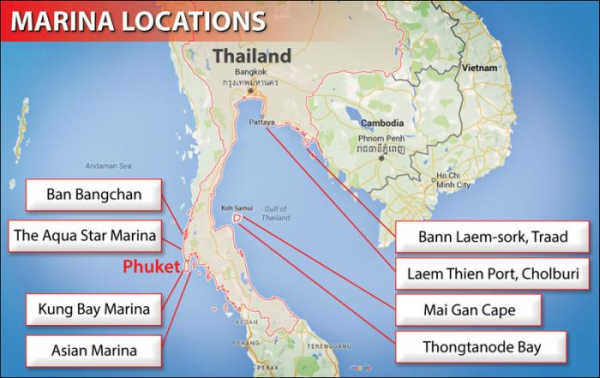 "These new marinas will stimulate economic growth throughout the region, especially in the tourism sector," said Mr Arkhom.
The two marinas planned for Phuket are the Asian Marina in Rassada and the Kung Bay Marina in Pa Khlok, the latter being the larger of the two, and deep enough to handle superyachts.
Covering 24 rai, the Asian Marina is relatively small. Its capacity is limited to handling smaller yachts due to the marina's depth of just five meters.
The larger Kung Bay Marina covers 108 rai and has a depth of eight meters, making it suitable for superyachts.
The government is currently negotiating with local land owners to secure long-term leases on the numerous parcels of land in each area tagged for the marina projects, confirmed a ministry source.
"Construction of the Kung Bay Marina in Phuket is expected to begin first quarter of 2017. However, much will depend on when environmental impact assessments are complete. Once construction is underway, though, the marina should take about one year to complete," he said. "A start date for construction of the Asian Marina has not yet been set, as negotiations are ongoing with local land owners, as well as potential investors. It could mean that construction may not begin for another two years," said the source.
All eight of the new marinas are to be built on private land, confirmed Mr Arkhom.
"In Phang Nga, the Aqua Star Marina covers 20 rai in Tai Muang, about 37 kilometers from Phuket International Airport. The berth depth there is 3-5 meters. Further north, the Ban Bangchan Marina in Takuatung covers 200 rai. Its berths also have a depth of 3-5 meters," said Mr Arkhom.
Read the full article here:  Phuket to get two new Marinas