Press Release GENOA and Monaco, September 2016
World premiere for the first unit of the semi-displacement aluminium OTAM Custom Range at 2016 Monaco Yacht Show from 28th September to 1st October
– Aluminum for maximum customization flexibility
– Superior volumes for the less than 300GT (295GT) category
– Stunning and unique lay-out and interiors by Tommaso Spadolini translating Owner's needs and personal style
– Over 2000 Nm of range and a maximum speed of 20 knots
The showcase of the prestigious Monaco Yacht Show 2016 it enriched with the first OTAM Custom Range 35 unit, a three deck 35 metre long, 7.8 metre beam yacht, ordered by an experienced Italian owner who was searching for a full custom aluminum yacht, tailor-made to fit his lifestyle.
The new OTAM Custom Range 35 offers a unique amount of living space onboard. Her aluminium construction allows the yard, in close collaboration with the client, to create a unique version that reflects personal taste both in interior layouts and exterior lines, both of which have been assigned to Tommaso Spadolini, the famous international yacht design office.
In addition the OTAM Custom Range 35 metre has a displacement of 295 GT, at the maximum limit of the category, offering superior volumes for the 300 GT category.
The interiors, again unique and full-custom built like a bespoke suit, are another OTAM strength since ever. And with her 295 GRT displacement, therefore under 300 GRT "limit", the yacht offers remarkable larger volumes than any other competitor in her category.
With OTAM's hull number one in the Custom Range – M/Y "GIPSY" – the client was very adamant that the layout would totally reflect his personal approach to life at sea.
The main deck is completely dedicated to her guest's daily activities, and their leisure or business/corporate entertainment. The large spaces available include a nearly 40 square metre main salon with movie theatre and a full beam dining area forward. The main deck also hosts the service areas, with a fully furnished galley and a 25 square metre pantry with separate access for the crew guaranteeing the best quality of life for the owner and his guests.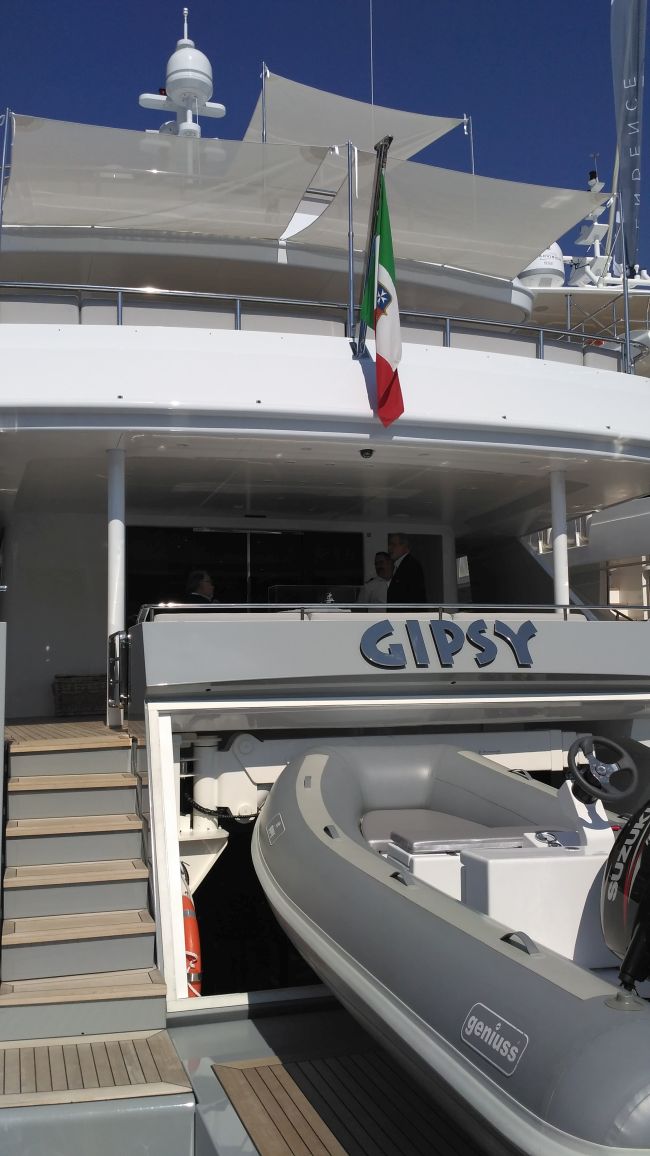 The four VIP cabins with twin and double beds and relative en-suites baths are on the lower deck, in an area connected by a hallway to the crew's quarters. Here too crew access is carefully located without infringing on guest privacy in order to guarantee highest standard of service on board and the slightest interaction with members of crew. Crew quarter is equipped with 4 cabins and washrooms, the laundry and storerooms. The full owner's upper deck, offering exclusive views and complete privacy, was expressly requested by the client, re-launching a popular concept among experienced owners who desire exclusivity and a more intimate relation with the sea. The layout also includes day-heads on each deck. Guests therefore don't have to return to their cabins, and the owner can host a considerable number of guests respecting complete privacy for both him and his family's cabins and living areas.
In regards to performance, the new OTAM Custom Range 35, exploiting the yard's engineering capabilities enhanced by the successful experience designing and building the Millennium Line, together with their long standing partner Naval Architect Umberto Tagliavini, has designed a very efficient semi-displacement hull that will give the OTAM Custom Range 35 a top speed of 20 knots and a considerable range of over 2,000 nautical miles at 11 knots.
ABOUT OTAM
Founded in 1954 in the Ligurian Gulf of Tigullio, OTAM – Organizzazione Tigullio Assistenza Motoscafi – was one of the first shipyards in Liguria. The yard is active in three segments: the historic Millennium range, OTAM core business now completed by Chase Boats niche production and since 2014 by the segment Full Custom from 35 to 40 meters, aluminium. The actual OTAM Millennium range is the result of 60 years of power boating experience and currently includes seven models: the 45′, the 50′ Open, the 58′ Open or HT, the 65′ HT, the 80′ HT, and the Millennium 100′. OTAM is based in Genoa-Sestri Ponente with over 17,000 square meters of facilities, direct access to the sea, 35 floating berths and a travel-lift that can handle up to 180 tons. The legendary OTAM Dock in Santa Margherita Ligure (nearby Portofino) has 70 berths and offers complete assistance. OTAM has approximately 50 employees. All OTAM production is in-house and most employees have been working with the yard for decades.
60 years of expertise in speed. Hulls made by OTAM are built using a mix of Aramat and vinyl ester resin, designed to guarantee total safety and high comfort even at higher speed in rough seas. With a dead-rise of more than 21°, an OTAM hull gives a smooth and fluid ride through the waves. Full safety is assured even while cruising at 40 knots with a sea at force 3 to 4. Outstanding performance, a top speed between 50 and 58 knots (depending on the model), and extreme ease of maneuver are all obtained also by careful attention to power/weight ratio. This results in a perfect synergy between hull design, Arneson surface drive propellers and weight distribution, with superior overall handling when compared to any other yachts with the same specs.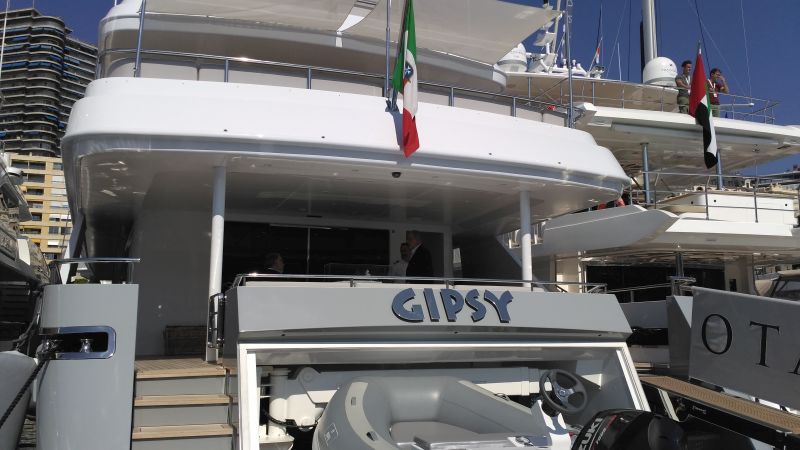 What is the most important advantage of an OTAM? Efficiency! At a cruising speed of 40 knots (apx 1,600 rpm), an OTAM yacht needs no more than 10 litres of fuel per nautical mile (up to 40% less than competitors), therefore guaranteeing better consumptions and less commuting time while cruising. This uniqueness puts also OTAM at the forefront in the new sector of luxury chase boats and mega-tenders.
Full Aluminum & Full Custom. At the end of 2014 OTAM began the production of aluminum semidisplacement custom yachts ranging from 30m to 40m, with superior standards and versatility, designed for experienced, worldwide owners. Attention to clients and to detail, passionate involvement, and no-compromise on quality resulted in the December 2014 sale of the first 35m Full Aluminum and Full Custom yacht with the clear objective to enter in a new segment of the market.
A yard for "happy few". OTAM builds seaborne "Granturismo" models for those who really understand the true meaning of "customization". Every yacht is designed as part of a process that begins with a deep analysis of each client's desires, developing each solution and details with maniacal attention. With over 75 OTAM yachts built, each is a unique experience, combining high quality and craftsmanship with obsession to detail: each OTAM is different from its predecessor. The team at OTAM has all the necessary experience to accompany the owner through the whole construction phase, advising and studying the best solutions to his specific needs. Lastly, OTAM customer care doesn't end on launch day! The same team will always be at the owner's side, for any problem or improvements, 365 days a year.