One of the world's largest superyachts – owned by a Russian billionaire and complete with six swimming pools – has moored in Auckland.
From Stuff NZ, images by Jason Dorday
The seven-deck luxury behemoth, Fincantieri's Ocean Victory, is owned by billionaire steel magnate Viktor Rashnikov who is worth more than $7 billion, according to Forbes.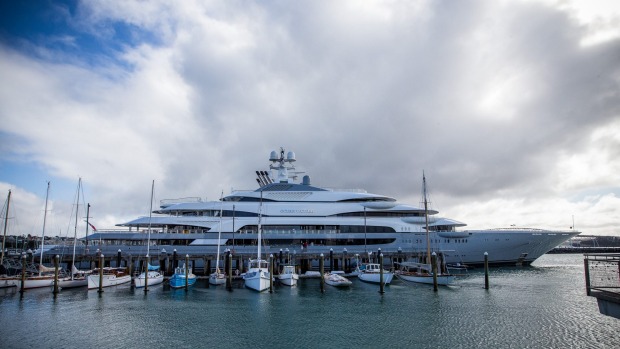 It docked in Auckland harbour on Monday morning after riding out the weekend's storm, having sailed from Fiji.
The ninth-largest superyacht in the world, Ocean Victory features six swimming pools, a helicopter hangar, a movie theatre, a 300-square-metre spa area, and an internal floatable dock for another 14-metre "runabout" boat.  It is 140-metres long and has 2000-square-metres of teak decking. It is 20 metres longer than New Zealand's two Navy frigates, Te Kaha and Te Mana.
The huge vessel dwarfs the submarine-like superyacht named A, which drew a lot of attention when docked in Auckland in late-2013.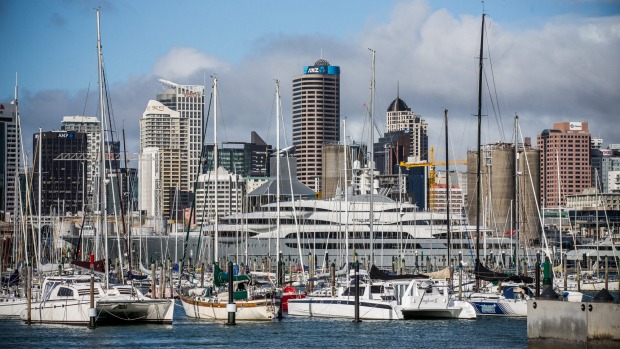 Ocean Victory is almost twice the size of the largest New Zealander-owned superyacht, Graham Hart's 77-metre Weta.  Launched in December, Rashnikov's superyacht is the largest yacht to be built in Italy and was delivered under a shroud of secrecy.  Very little was known about the build prior to its launch, as the owner had demanded privacy, according to Boatsinternational.com.
But it has since sailed the world, through Asia and the Pacific, to New Zealand waters. It took just over four years to build. It is capable of accommodating up to 36 guests.
Read the full article here – Russian billionaire's luxury superyacht docks in Auckland