YANGON, June 3 (Xinhua) — Myanmar has been making progress in preparations for launching the country's first stock exchange by October 2015 with technical aid from Japan, according to Deputy Minister of Finance Dr. Maung Maung Thein.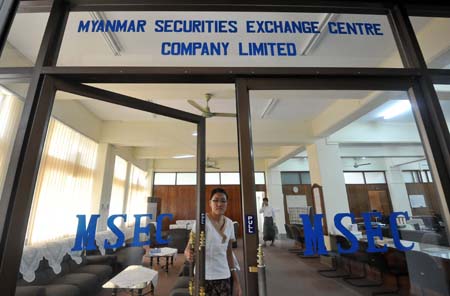 Major work for the emergence of a capital market that are taking place simultaneously included the formation of a securities and exchange commission and preparations by companies to be listed, the official said at a recent seminar in Yangon.
According to him, the Yangon Stock Exchange will be operated by the Myanmar Economic Bank in partnership with Japan's Tokyo Stock Exchange and Daiwa Securities Group. A joint venture agreement to this effect is expected to be signed soon.
Read further details here:  Myanmar ready to launch stock exchange by late 2015  Photo from AFP