St Tropez, France.  The Starry Bay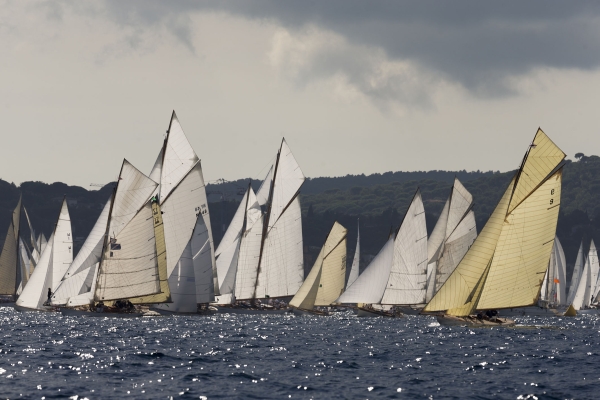 Today the big circus of Les Voiles de Saint Tropez played host to the stars with names that reflected the golden age of yachting,  such as Marigold, Phoebus, Silhouette, Partridge and Véronique…. 130 Classic boats, lively creations echoing 140 years of creative naval genius, cut quite a dash as the white foam combined with the blue sea under the beating sun.
Yesterday's stormy interlude gave way to a totally soothed race zone, and all it took was the westerly wind to kick in to fuel the passions of the sailors. From midday, the Race Committee for the Classics released the eleven classes on a pretty little coastal course bathed in light. Marconi, gaff and Gunter rigged, these sublime boats were really able to show what they were made of from 8 to 10 knots of breeze, once again highlighting the fact that beneath their marvellous elegance and style they have some exceptionally seaworthy qualities.
The Classics enchant the bay
The ten Classes, which make up the so-called 'traditional' fleet in Saint Tropez, all have the utmost respect for sporting equity, enabling the skippers and owners to race within compact and particularly coherent groups of 12 to 15 craft. The 'little' Marconi rigged yachts (large triangular sail), were the first to set sail at midday in a gentle westerly of around ten knots; perfect when the sea is flat to get the best out of their slender hulls as they slice through the waves.
Read the full race report here:  The Starry Bay