With Fiji's 702 miles of sublime coastline spread across 322 islands, the waters of the Pacific are never far off. Not surprisingly, the native Fijians' link to the water runs deep. Fiji's society promotes stewardship of the environment, and islands and villages, such as Beqa, take the lead in protecting local species — even feared species like bull sharks. And it probably doesn't hurt that Fiji's warm waters are home to world-class diving, sailing, fishing and surfing.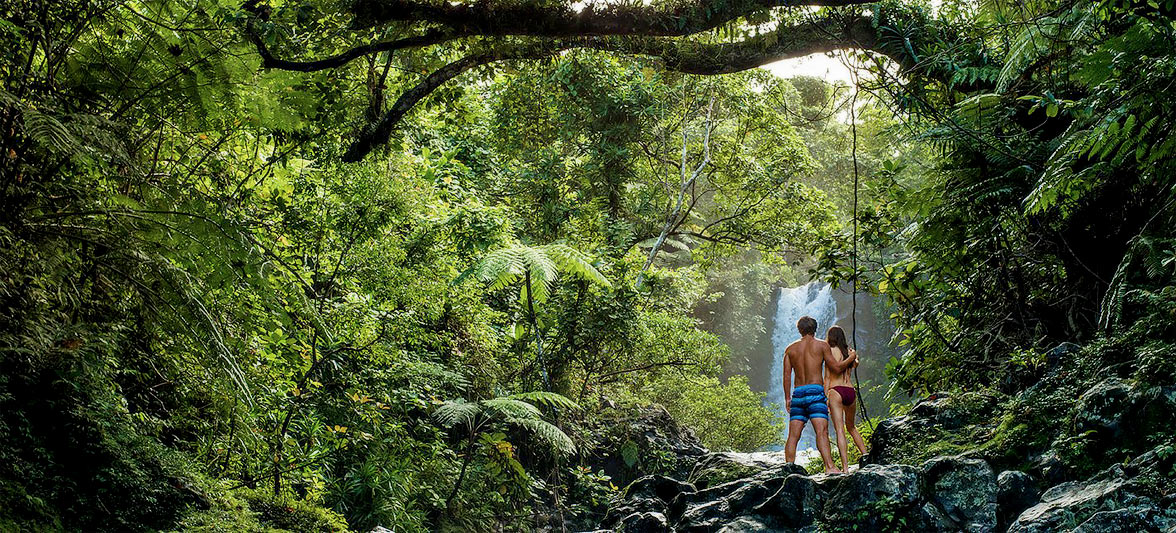 Whether or not you own a Superyacht maybe slightly superfluous, however it certainly helps when wanting to get the best out of a Fiji adventure.
Here Seal Superyachts gives 8 compelling reasons why we consider Fiji to be up there with the best of them:
1. Great hikes, waterfalls and big swimming holes
Located just off Vanua Levu's east coast is Taveuni Island, known ad Fiji's Garden of Eden. More than 80 percent of it is protected within Bouma National Heritage Park, and it teems with rare orchids, prehistoric tree ferns, tumbling waterfalls and natural water slides. Don't miss the Tavoro waterfalls, a 30 metre horsetail of white cascades into an emerald pool, which is easily accessible via a flat, grassy trail.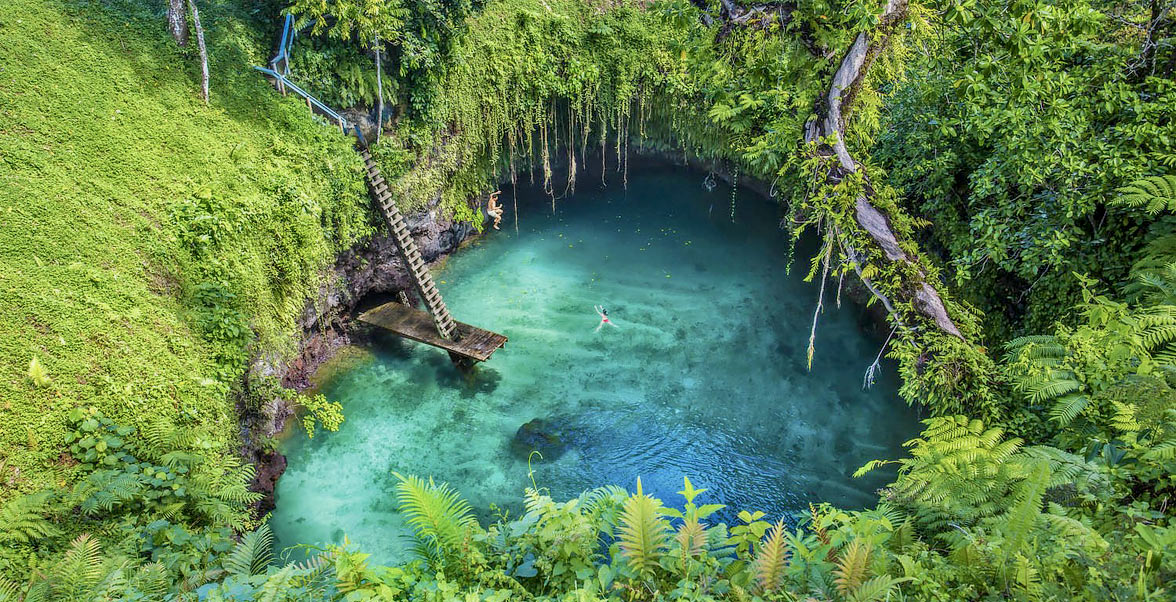 2. Super friendly people
Residents of this verdant South Pacific nation have got feeling good down to a fine art. A 2014 WIN/Gallup International poll of countries found that Fiji's people are the happiest on Earth, with 93 percent of Fijians answering they were either "happy" or "very happy." Of course, scientists still can't pinpoint the font of happiness. But whether it's the pristine beaches, vibrant culture or just something in the (famous) water, Fiji is getting it right.
One of the great things about this Pacific paradise is that everyone speaks English (as well as Fijian or Hindi) – although there are a few idiosyncrasies.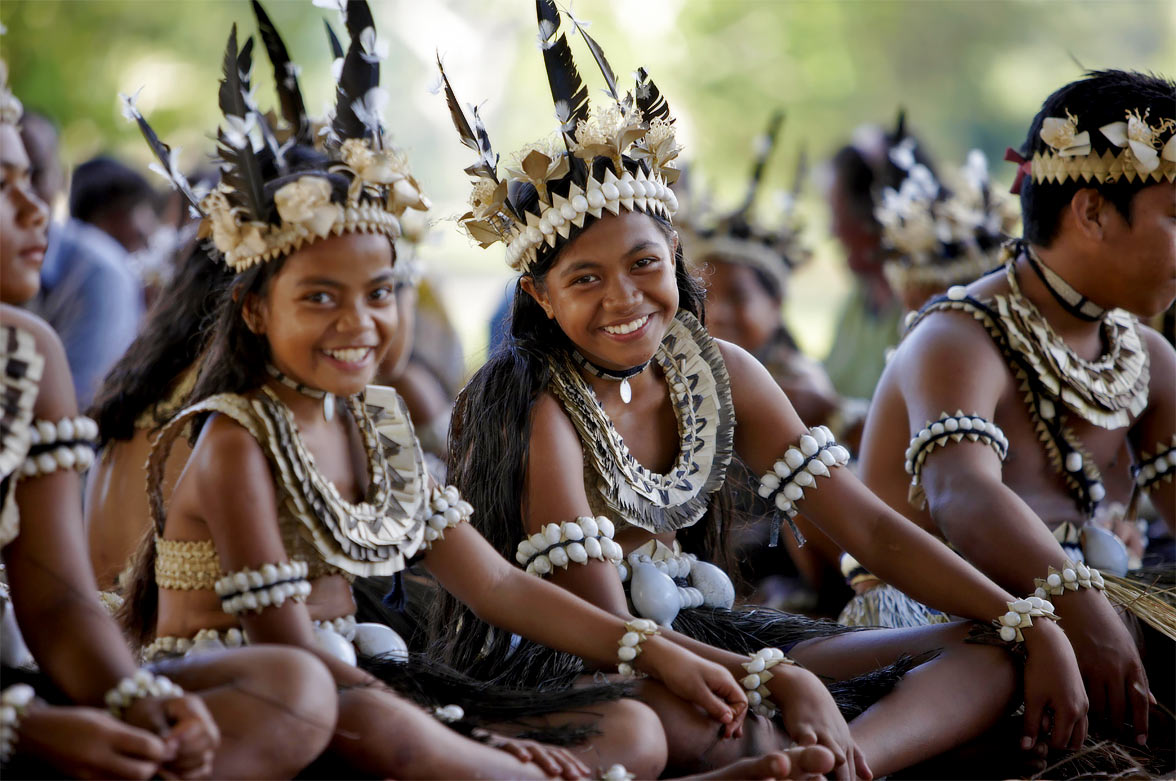 3. Fijians just love to dance
They call it Meke – a family of traditional Fijian dances involving vibrant costumes and dramatic storytelling. Read about any visitor's trip to Fiji and you'll see ecstatic references to the Fijian love for song and dance, from elaborate resort shows to impromptu village serenades. As early as the 1890's, European visitors noted that, "so great is the love of the Melanesians for song that they sing at their field-work or when rowing or walking about."
Fijians' love for music might not just be a (happy) byproduct of their joie de vivre; it might also be the cause. A 2012 study found that enrollment in dance class reduced self-reported stress among depressed and anxious teenagers. And the brain actually releases dopamine, the chemical that makes us feel great, when we listen to music. So, go on, listen to the Fijian songs and try to feel grumpy. We dare you.
4. Traditional Village Ceremonies & Fijian Culture
Swing by any village in Fiji, and you'll inevitably be invited to sit down for a bowl of Kava. The traditional drink, brewed from a species of pepper plant, is enjoyed by almost everyone in the country. The Kava ceremony is a central part of Fijian culture, and etiquette demands that visitors give an offering of Kava to a village chief upon their arrival. By all accounts, however, the taste is, err, not great; some reviewers describe kava's flavour as "muddy water, literally."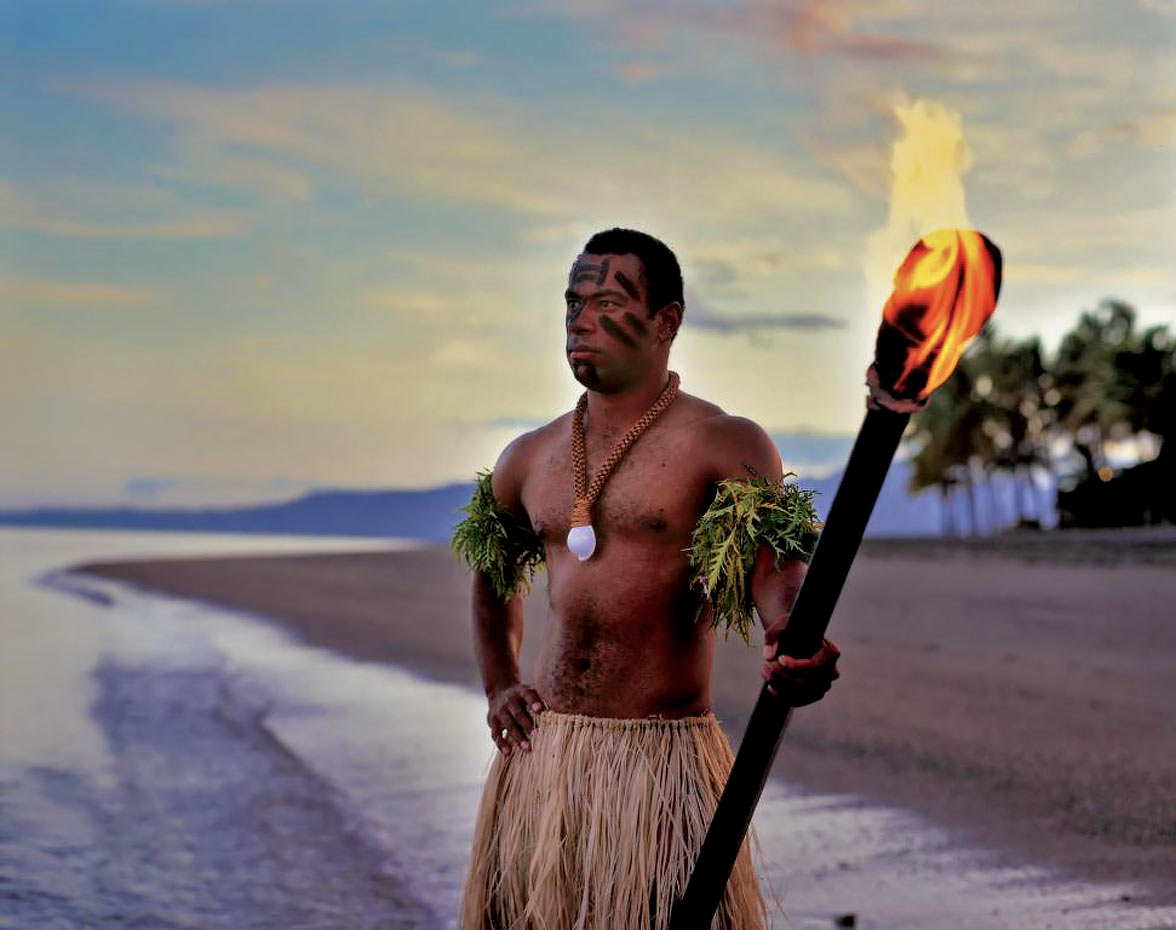 But Kava's power is far more than ceremonial. Along with its infamous novacaine-like numbing and tingling effect, Kava is a "moderately effective treatment" for any anxiety disorder. Indeed, studies show that Kava works on the brain in a manner similar to anti-anxiety drugs such as Valium. If that isn't enough, Fijian ceremony dictates that you yell "BULA!" after each sip, which makes us happy based on sound alone.
The biggest lesson to learn from Fiji's happiness is this: The good life stems from meaningful interaction with other people. Fiji's community ties are remarkably strong. Life centres around an extended family unit and a chieftain. Eighty-seven percent of the country's land is owned by the community and administered by a land trust. Moreover, Fijians embrace traditions of the past, from the unique and renowned fire-walking ceremony on Beqa Island to the mysterious turtle-whisperers of Kadavu.
5. Surfing
There is surf all year round in Fiji, you just have to find it, and like anywhere else cannot be guaranteed of a decent wave first day out on the water. There are 2 surf seasons, with the best swells coming from the southerly fronts originating from low pressure systems that start in the Tasman Sea to the south of Australia. These cold fronts occur year round, though they're most frequent in the dry season which occurs from March to October – producing consistent ground swells which can get up to 8′ to 12'.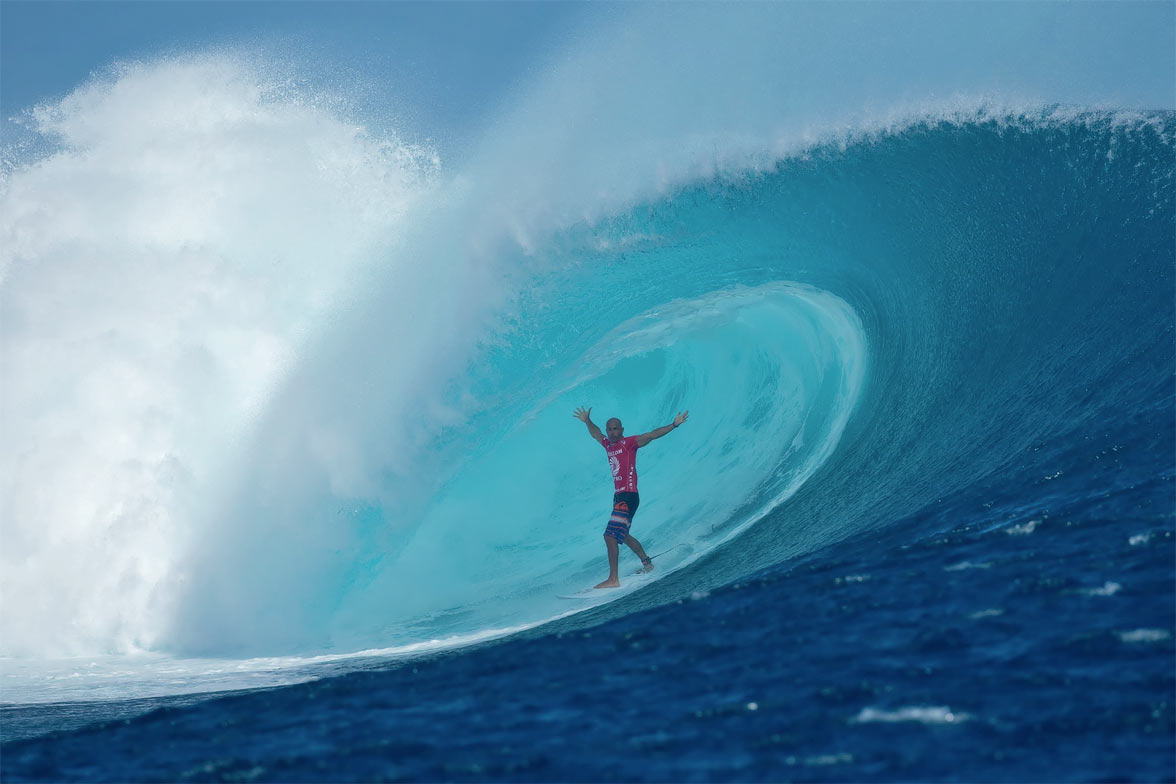 The tropical storms and cyclones which occur off North Queensland between November and March can also produce some excellent waves and are generally associated with shorter swells, however the conditions could be called "tropical" as it is glassy or light winds all day and extremely hot with afternoon showers. This is the time when the most famous of Fiji's breaks can fire up with limited crowds.
6. Kite Surfing
Technically, you can kite surf anywhere in Fiji as there is plenty of water and consistent onshore winds. For most people, that means visiting the beach. But some beach locations are much better than others when it comes to kiting. To that end, kite surfing in Fiji offers one of the most exhilarating experiences you can have on the water. The region's warm sun, robust winds and gorgeous waves are sure to rival any kite surfing experience you've enjoyed in the past.
7. Laucala Island: a far-flung Fijian paradise
In terms of natural riches, the 3,500-acre Laucala Island has it all: steep mountains with views over inky seas and turquoise bays, subtropical forests burbling with birdsong and lit up with exotic flowers, and underground aquifers full of fresh water. The air is sweet with the pervasive aromas of fruit trees and coconut. A dozen beaches fringe its shores. In the distance a reef, rich with technicolour coral and marine life, protects it from the sea. The island is so picture-perfect, in fact, that it is almost kitsch in its beauty: as unspoilt today as it was when the Dutch sailor Abel Tasman explored these waters in the 17th century.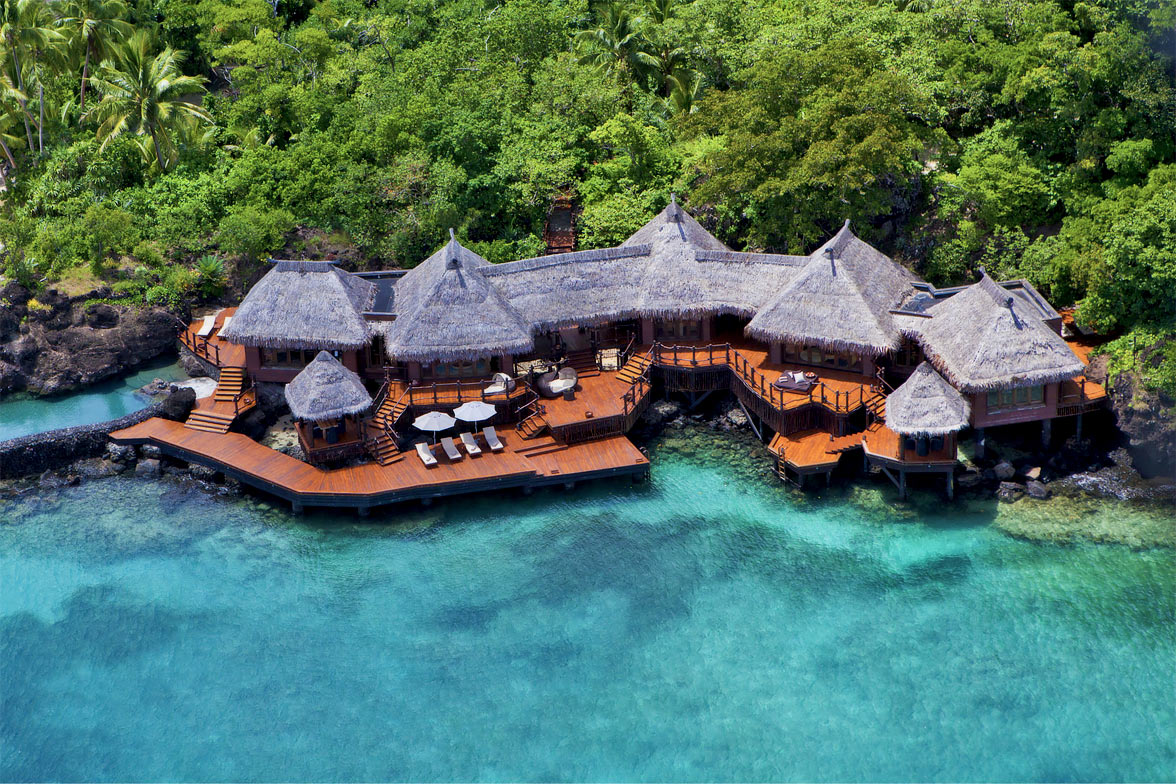 Fortunately, Laucala's new owner, Dietrich Mateschitz, not only relishes this natural bounty but is also obsessed with protecting it. When the Austrian Red Bull billionaire bought the island from the Forbes family in 2003 for $10 million, he insisted that there was to be as little impact on the environment as possible. What he wanted was a Fijian resort that he could fly over in his little Husky floatplane without knowing it was there.
Today, just a tiny sliver in the north of the island is inhabited. When creating the 18-hole golf course, with glorious views over glossy coconut plantations, the Scottish designer David McLay Kidd was told to cut down as few trees as possible. The owner's dream was to make the island totally self-sufficient (it is currently 80 per cent so), hence the 240-acre farm with its free-range pigs, cattle, chickens and quails. Laucala also has a vast herb garden, a temperature-controlled nursery for growing exotic plants and three enormous hydroponic greenhouses in which to nurture vegetables that wouldn't survive in the humid, insect-infested soil outdoors.
8. Shark feed dive at Breqea Bay
So what makes this the #1 shark feed dive in the world?
First, the diversity; you can see bull sharks – and we mean BIG ones. Nurse sharks, Lemon sharks, White-tip reef sharks, Silvertip sharks, Oceanic Black-tip sharks, black tip reef sharks, gray reef sharks and even tiger sharks! It's almost impossible to see this many shark species on one dive anywhere.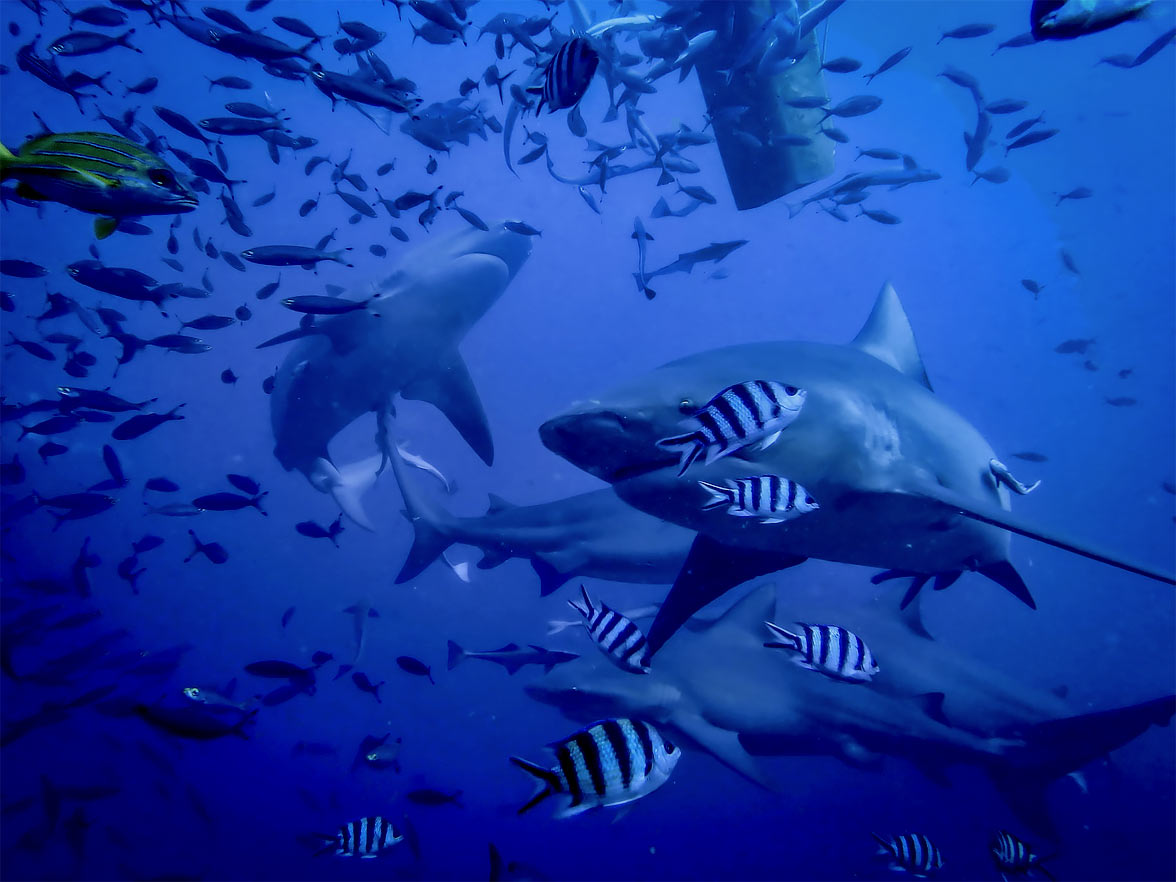 Second, the action; there's an incredible amount of it with over 50 individual sharks participating and dozens swooping in for the bait. At times, it seems like there are sharks everywhere. Even after the bait is gone, many of the sharks stay around, and you will have the opportunity to swim with them alongside the reef. If you get a chance to dive here, you will come up from the dive saying – kick ass!!
Footnote: Contact Seal Superyachts Fiji for detailed information about cruising around Fiji, superyacht charter regulations and about how we can support your visit. Principle agent Brian Smith has been proud to have acted as agent for many of the Superyachts which have come to visit.
Contact Brian Smith at fiji@seal-superyachts.com to discover more about the potential of cruising around Fiji.