What South-east Asia lacks in medieval fortified harbours or Michelin-star restaurants it more than makes up for with achingly beautiful coastlines, incredible hospitality, unspoiled vistas and some of the world's best diving.
From Billionaire.com, by Jody Chapman
While superyachting in Southeast Asia remains a logistical challenge for any owner or captain, the rewards vastly outweigh the effort.  If yachting is about getting back to nature and away from the hustle of modern life, then Southeast Asia leaves the Mediterranean far in its wake.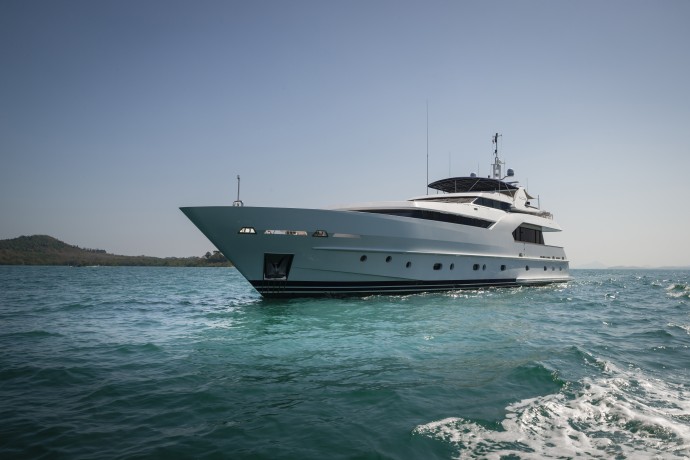 The traditional superyachting season follows a well-sailed route; most yachts bob around the Mediterranean between May and September then either go into hibernation over the winter or make the transatlantic jump to the Caribbean.  It's an exotic caravan, which few yacht owners seem to tire of, despite the repetition.  However, recently, a number of superyachts have made the jump to Asia for some off-the-beaten-track exploration, with Vava II, Octopus, A and Twizzle all seeing what is on offer in the region.
As southern Asian waters are, in large part, tropical, they don't have a defined summer cruising season but they are at the whim of three monsoons: the Southwest Monsoon affecting the north-west part of Asia between July and September; the Northeast Monsoon rumbling across south Asia between December and March; and the East Asian Monsoon over the Philippines, Korea and Japan from May to August. All of these monsoons need to be avoided given scant sheltered harbours and yacht moorings. With some basic planning, it is possible to cruise year-round — but where should one head?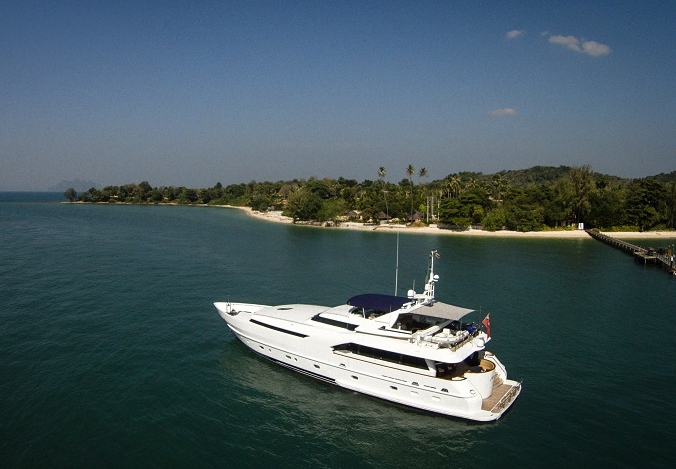 To portray Southeast Asia as another Mediterranean is misleading in the extreme. However, what it lacks in medieval fortified harbours or Michelin-star restaurants it more than makes up for with achingly beautiful coastlines, incredible hospitality, unspoiled vistas and some of the world's best diving. These treasures do not give themselves up easily and yachting in Asian waters is more akin to exploration yachting than cruising and is certainly not for the faint-hearted. The established 'superyacht hubs' such as Phuket, Langkawi and Singapore are not places that will keep owners entertained for long. However, after a few days of sailing it is possible to be swimming with manta rays, meeting indigenous tribes or climbing volcanoes.
Langkawi, Jakarta, Phuket and Singapore
Southeast Asian waters are the jurisdiction of eight different countries all with their own novel and often infuriating take on bureaucracy. It is therefore important that you are prepared for the hoops, inspections, questions, paper trail and the time to allow smooth passage between waters. Singapore, Langkawi, Phuket and Jakarta all offer safe havens with well-established services for superyachts, marinas, sheltered harbours, supplies, fuel and repairs, as well as decent international airports. They are hardly Monaco or Barcelona but they do offer the best gateway to some truly extraordinary destinations and will allow the time and security to prepare for the adventures ahead.
Komodo, Indonesia
If a Jurassic sense of remoteness appeals, then the primordial landscapes of Komodo will not disappoint. Famous for its dragons, Komodo Island is one of a series of volcanic outcrops along the Nusu Tenggara archipelago in southern Indonesia. Sailing around these mostly uninhabited islands feels like a scene from Jason and the Argonauts and the sea life is not that far removed. Marine reserves offer a sanctuary for sharks, dolphins and turtles, and there are several popular manta ray cleaning stations and breeding grounds.
Komodo is best reached from the charming town of Labuan Bajo, a refreshingly honest fishing port with a decent domestic airport and several reasonable eateries. The port offers a sheltered harbour and provisioning supplies. Don't expect much in terms of yacht services but what the locals lack in experience they make up for in enthusiasm. All of Komodo's dive boats operate from Labuan Bajo and dive spots can get quite busy during the manta and whale shark seasons.
Raja Ampat, Indonesia
Indonesian folklore has it that a woman found seven eggs, four of these eggs hatched to become the Four Kings (Raja Ampat in Bahasa) Islands of Misool, Salawati, Batanta and Waigeo, the others became a stone, a ghost and a woman. The archipelago is located on the western tip of West Papua and echoes the same incredible biodiversity and natural beauty as Papua New Guinea. The sea around Raja Ampat forms the largest marine reserve in Indonesia and scientific studies have shown that archipelago is inhabited by the richest diversity of marine life to be found anywhere on the planet. Raja Ampat often tops polls of dive locations and is on every serious divers bucket list.
Meanwhile, on terra firma you can experience indigenous tribes and verdant fauna and flora among primary rainforest, although an experienced guide is essential.
One of the reasons it remains unsullied by a backpacker or the tourist industry is its remoteness; the nearest domestic airport is Sorong in West Papua and this will be where most local charters will commence. Silolona Sojourns has two traditionally built Phinisi yachts — Si Datu Bua and Sililona — available for private charter around Raja Ampat, Sulawesi and the Banda Sea. Silolona Sojourns offers tailored experiences taking in local tribes, pristine diving and complete cultural submergence. Both of the yachts are painstakingly appointed, staffed and maintained, creating an otherworldly ambience.
Andaman and Nicobar Islands, India
One day's cruise from Phuket and lying halfway across the Bay of Bengal, the Andaman and Nicobar Islands offer some of the most enigmatic destinations in Asia. While tourism from India is slowly punctuating the white beaches of the Andamans with boutique hotels (concentrated around the scruffy Port Blair and lavish Havelock Island) it remains largely unspoiled and with an archipelago of 572 islands, many unchartered, there are plenty of opportunities for exploration. Along with outstanding natural beauty both above and under the water, the Andamans have fascinating anthropology with several no-go areas around unique island tribes. Each isolated island has developing its own distinctive language, culture and rituals. During the humanitarian efforts after the 2004 Aceh tsunami, previously undiscovered tribes were found unharmed and seemingly unaffected in the wake of the disaster.
Maldives
The Maldives is a low-lying archipelago of 26 atolls consisting of 1,192 islands with only 192 of those inhabited. The highest natural point is a vertically challenged 2.4m above sea level. Malé, the cramped capital island, is the churning and belching engine of the country and, while it's not a pretty city, it will provide almost anything you need in preparation for a cruise around the stunning turquoise atolls. Dotted around the vast sea are some of the world's most exquisite resorts — many offering sheltered moorings with transit to a plethora of restaurants,
spas and hotels.
The islands are spread over a huge area and between the numerous resorts are countless palm-fronted white-sand islands lapped by warm blue water. It provides the quintessential desert island escape and boasts some of the best diving for recreational or advanced scuba divers, and one of the most assured places in the world to see manta rays, humpback whales, whale sharks and hawksbill turtles. The Maldives is slowly gaining a reputation for some incredible surfing and many of the breaks can only be accessed by private boat.
Original article on billionaire.com by Jody Chapman is here – Best Yacht Cruises in Southeast Asia
Thanks to Andrew Nicholls for his kind permission to publish here – Jolly Good!